Dadaji was visiting Aayush for his birthday. Aayush had invited all his friends to his house for a party. 
Aayush introduced everyone to his grandfather and the kids played many games. After spending an enjoyable evening, they bade goodbye and left.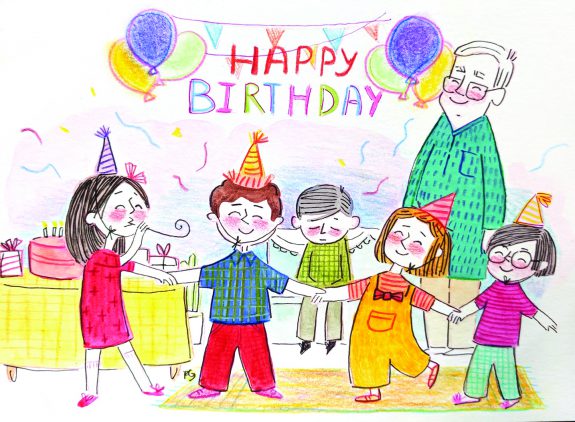 "Aayush, all your friends enjoyed the party. But Rohan was quiet most of the time." Dadaji said to Aayush when they had cleared the room.
"Dadaji, Rohan's father was a captain in the army. He was killed during the Kargil war. Since then, Rohan remains sad most of the time."
"Oh!" said Dadaji understanding Rohan's quietness.
"Dadaji, why was the Kargil war fought?" asked Aayush sitting down. 
"In our northernmost region of Kashmir, lies the mountain of Kargil on the line of control with our neighbour, Pakistan. The Kargil War was fought in 1999 from May to July to protect the line of control. It was a very difficult terrain and our soldiers fought bravely for nearly sixty days and finally succeeded in getting back the occupied territory on the 26th of July by fighting Pakistan's soldiers. Many lives were lost on both sides due to the war." explained Dadaji.
He continued, "Therefore every year on 26th July we celebrate Kargil Victory Day in memory and pay homage to our brave soldiers." 
"Rohan's dad died in this war," said Aayush sadly and added, "Not just that, he died on the day of Rohan's birthday, which is why Rohan does not celebrate his birthday anymore."
"He is a young child. He must be torn between celebrating his birthday and the memory of his father," said Dadaji thoughtfully.
"Yes. And he misses his dad very much. His mother also does not want him to celebrate his birthday," added Aayush.
"When is Rohan's birthday?" suddenly Dadaji asked.
"Next Monday, Dadaji," replied Aayush.
"Alright. Let's get a good sleep. You must be tired." said Dadaji.
"Goodnight Dadaji!" said Aayush and went to bed.
The following Monday at Rohan's house, his mom asked him to wear new clothes. 
"Why should I wear new clothes, mom?  We do not celebrate my birthday," said Rohan, quietly looking up at his mother.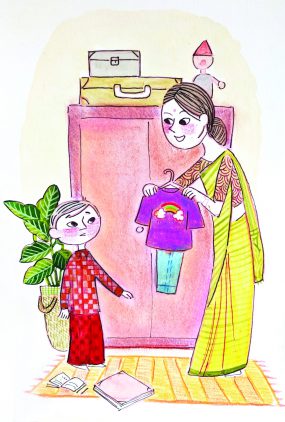 Even though Rohan did not understand what was happening, he did what his mother asked, and put on new clothes.
Just then the door bell rang and mom asked Rohan to open the door. When he opened the door, he saw Aayush's Dadaji, Aayush and his friends standing there.  They had balloons, a big cake and gifts in their hands. They all shouted together, "Happy birthday, Rohan!" Rohan did not know what to say and looked at his mother who was standing nearby smiling.
Dadaji told the children, "Come, let's start decorating this room with balloons." The children got busy with decorations and soon the room was ready.
"Happy Birthday, Rohan?" said Dadaji.
"But Dadaji, I do not celebrate my birthday." replied Rohan.
"Dadaji spoke with your mom and explained her that if your dad had been here today, he would have loved to celebrate your birthday. So your mom and my Dadaji got together to arrange this surprise birthday party for you," said Aayush.
Rohan looked at his mother with tears in his eyes. She just said, "Come, it's time to cut the cake!"
Rohan cut the cake and the room once again was filled with wishes of "Happy birthday!" pouring in.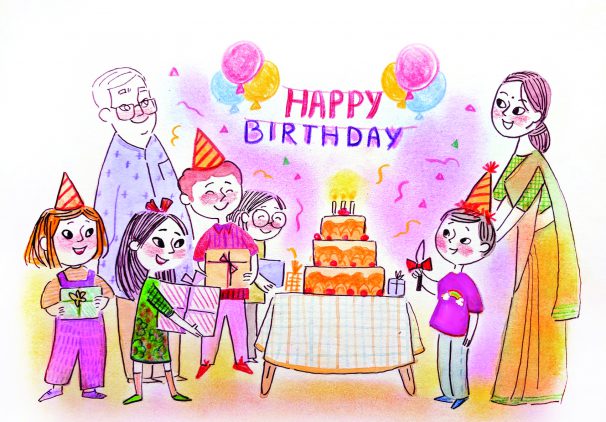 Tags:
army
,
bedtime stories
,
bedtime stories for kids
,
bedtime stories stories for children
,
cat and mice
,
cat and mouse
,
children moral stories
,
children stories with morals
,
empathize
,
empathy
,
friends
,
friendship
,
friendship stories
,
friendship story
,
fun stories for kids
,
inspirational
,
kargil
,
kids stories
,
mischief
,
moral stories
,
moral stories for children
,
parents read
,
read aloud stories
,
short stories with moral
,
stories with morals
,
value and morals