The cold breeze envelops the sleepy valley of Srinagar. The pine trees with mountain peaks in the background look picture perfect. Hassan sits at his window, staring at the stillness.
The calendar flutters on the wall and Hassan looks at the date. It's August 15. This is going to be the second year that Hassan hasn't stepped out to celebrate Independence Day at school. In fact, he can't remember the last time he stepped outside. Everywhere he turns, he hears the words lockdown and coronavirus.
Over the past year, he has also learnt that lockdowns in Kashmir aren't new. When the lockdown was announced all over India because of the virus, Kashmir had already been under one for months.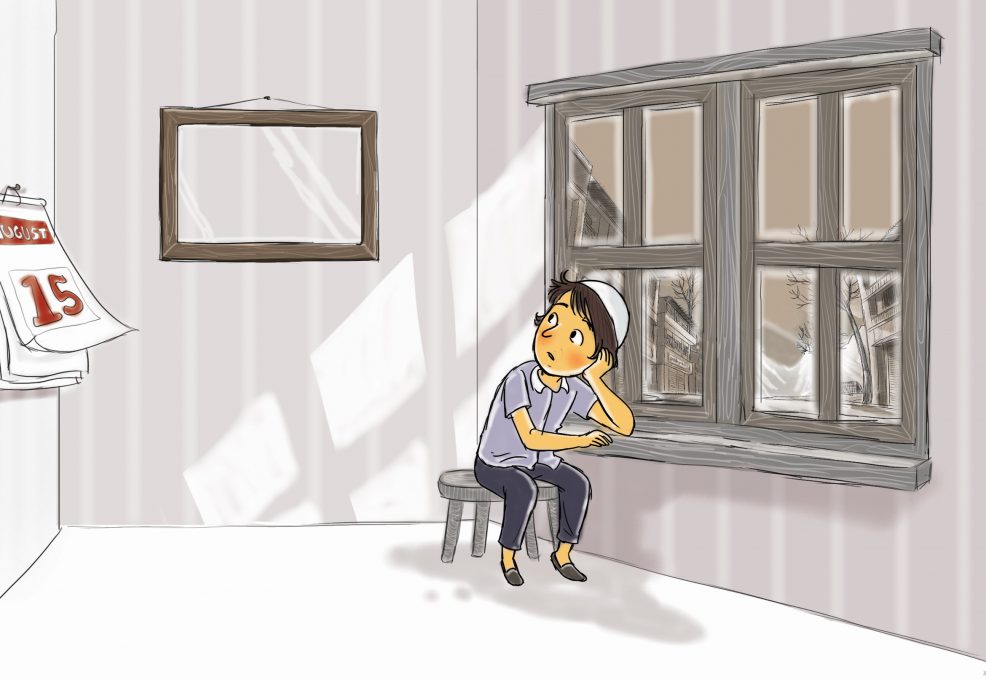 Sneaking out to meet Ali and Imran was strictly not allowed by Abba and Ammi. Ammi's phone had rung only once or twice over the past couple of months and then there was silence again. The internet connection started and stopped without any notice.
He thinks of the last time he had halwa, yummy delicious halwa. Everything was rationed. This Ramzan, he didn't get any new clothes, but Hassan understands that clothes are not important. Things were changing; he was growing up.
"Hassan, I am headed to Rukhsar aunty's home." Ammi's warm voice reaches him from the kitchen.
"Ammi, I want to go with you." Hassan pleads. He hasn't been to the bazaar or anywhere in a long time.
Ammi looks at Hassan and lets out a deep sigh. She, too, only went to the market, following rules and ensuring everyone's safety, but looking at Hassan's face she said, "Okay, go put on your mask and wear the full-sleeved shirt."
Hassan throws his arms around his lovely Ammi who is frail, thinner than before.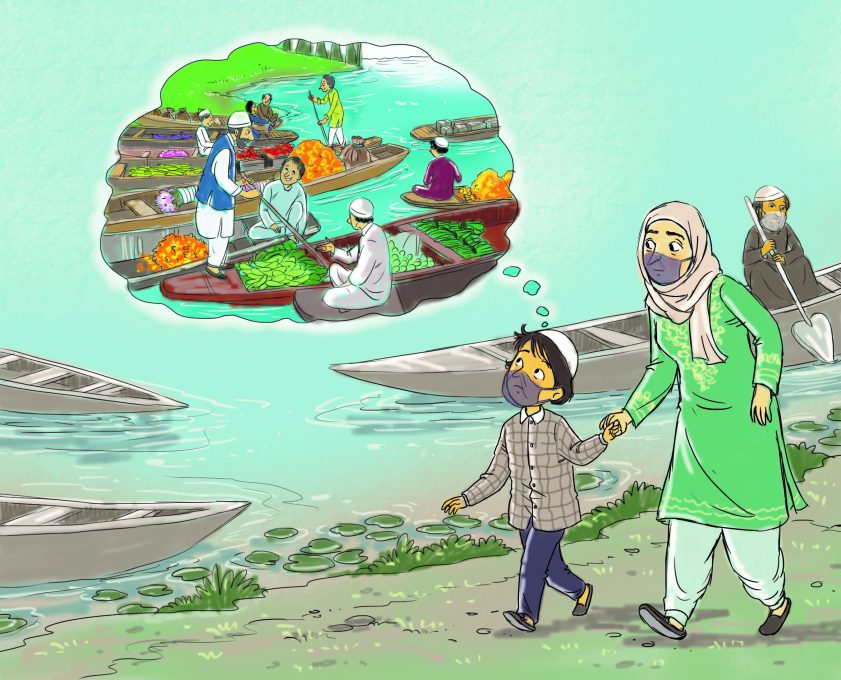 Hassan skips along Dal Lake as he looks around. During summers, Dal Lake usually had the world-renowned floating market, with shikaras floating on the lake carrying flowers, vegetables and people. This year, Dal Lake is deserted. He wonders if this was how Srinagar would always be.
Hassan breathes in the cool mountain air and feels his lungs opening. "Ammi, why are we going to Rukhsar aunty's?" he asked.
"She offered to give us some vegetables from her garden, Hassan," replied Ammi.
Hassan looks around and spots a makeshift stall full of bright, red and juicy tomatoes. He tugs at Ammi's sleeves. Ammi shakes her head and leads him on.
Hassan looks at Ammi and questions, "Why have Abba and you been eating less?"
Ammi swallows a lump in her throat and turns to Hassan. "We don't have work right now, beta. We are just saving some money."
"Will you always have to eat less, Ammi? Is it this virus? Will you never be able to go back to work? Will the bazaar never open again?" Hassan asks questions that have kept him wondering for days now.
"The times are a little different, Hassan." Ammi lovingly touches his face.
"Why are times always different for us?" Hassan almost screams.
He looks around and sees the shops with their shutters down. The tour and ticketing shop run by Uncle Akhil is shut. The photo studio run by his friend Imran's Abba, where he and his friends went to get their school identity card photograph clicked, is empty. The big building, which had people with heads bent on computers looked haunted by ghosts.
He looks at the small number of people rushing to their destinations, silently. Once upon a time, each one on the street had a mobile and would be talking loudly. Was that just a year ago? Everything feels like a distant memory and that scares Hassan.
"Why don't we still have proper phone connections, Ammi? Will it always be like this? Will we always stay disconnected? When can I go back to school and write my exams, Ammi?" Hassan's young voice is pained with his questions.
Hassan can see Ammi's eyes flood up from behind the mask. Taking a deep breath, she braves the cold wind and turns to Hassan.
"Hassan, we live on hope, on umeed. That's the only thing that keeps us going. We will continue to believe that one day Kashmir will be back to normalcy and so will this world."
Hassan hugs his mother tight and both make their way to Rukhsar's house. The only sound that accompanies the shuffle of their footsteps is the distant sound of the army patrol and the whistle of the wind.
Aunty Rukhsar is Ammi's close friend. They used to work together with carpet weaving artisans.
"Alia, Hassan. I was waiting for you." Rukhsar looks at them with eyes full of love but maintains distance. Hassan feels that warm hugs were also exchanged a lifetime ago.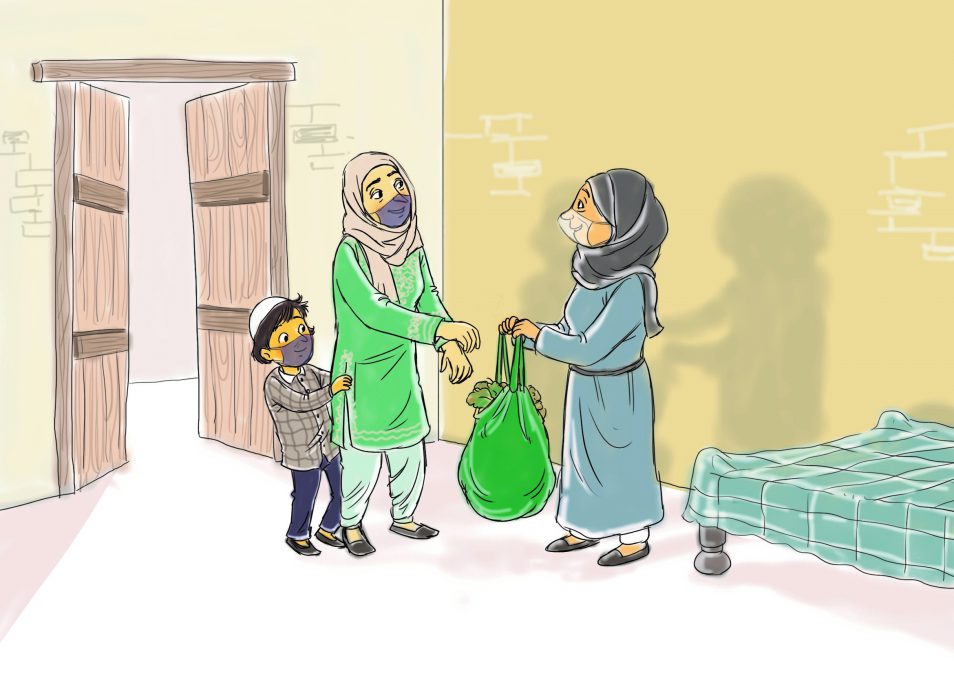 "Here you go. I hope they are enough to get you through the season." Rukhsar hands over a big bag of green vegetables to Ammi. Hassan sees Cabbages, haak, and green peppers in the overstuffed bag. With quick goodbyes and nods, Ammi and Hassan walk back home.
"What will we have for dinner today, Ammi?" Hassan asks as soon as they step inside their house.
Ammi smiles and adds, "Haak, we will have a yummy, filling and nutritious meal today."
Once home, Hassan changes into his kurta and pyjamas and puts on a thin woollen pullover. He steps into the warm kitchen where Ammi is picking out the green leaves.
"Ammi, what's special about haak?" Hassan asks, seeing Ammi clean delicate and tender leaves and stalks.
"Haak is a food of respect, most of the leaves used would be thrown out otherwise, but for this dish, we use all of them. It's called a poor man's meal. The ones we are using today is Kaatchie Dal Haak."
Hassan watches as Ammi heats mustard oil in the pan. The sputtering and simmering remind Hassan of firecrackers.
"Are we poor, Ammi?" Hassan asks quietly. He knew the past one year had been the toughest in his ten years.
"Why do you ask, Hassan?"
"We are eating a poor man's meal, Ammi."
Ammi smiles at Hassan and adds asafoetida and dried, long red chillies into the pan.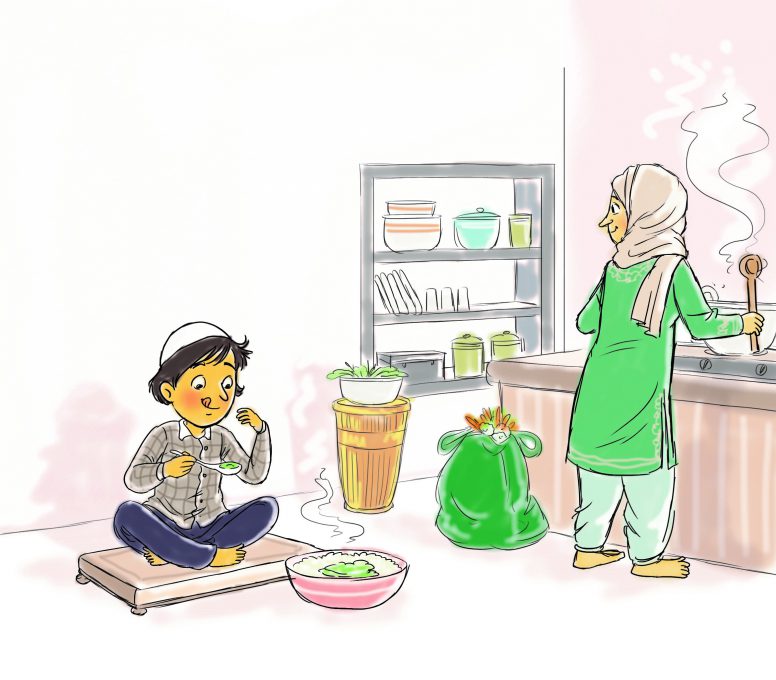 "Hassan, the times are tough and while abbu and I do not have jobs, at the moment, we are still doing better than so many other people around us. So, can we call ourselves poor?"
Hassan thinks of the stories he has been hearing over the months about people dying, both because of the virus and otherwise.
Ammi switches off the flame, adds water, then switches it back on and adds the haak to the boiling mix. The kitchen is filled with a tangy fragrance. Hassan feels his eyes smarting but enjoys the feeling.
Ammi crushes some green chillies and adds them, covering the simmering greens and letting them cook slowly.
"Aatichooo!" Hassan sneezes in response. Both of them burst into laughter.
Ammi switches off the stove and adds some salt. Hassan's mouth waters. Laughing, Ammi ladles out a huge bowl of rice and puts haak right in the middle.
Handing it over to Hassan, she waits as Hassan tastes the simple Kashmiri haak and rice.
"Ammi, this tastes magical," Hassan grins as he gulps the entire bowl.
Ammi laughs, "See Hassan, we got something nutritious and simple out of what we would have been throwing into the dustbin."
"Ammi, I want to go back to school and lead a normal life. I want to go back to playing with my friends. I want to go back to a year ago."
Ammi stands speechless as Hassan spells out his wishes and looks out of the window at the starkness of the city, holding his bowl of rice close. He can smell despair and sorrow.
Four seasons have passed but in his little heart, he still hopes for better news. That he will go back to learning lessons, playing games and most of all, living normally like other children of his age are. Hassan hopes that he will again get a chance to celebrate August 15 at school in Kashmir.