It was the first week of December and it was freezing outside. But Rahul did not care. He was excited about the cricket match scheduled on the coming Sunday, that Shivam's team had challenged his team to.
"Don't be so happy. Next Sunday you will not be able to score even 50 runs," Shivam said after his team had lost the match.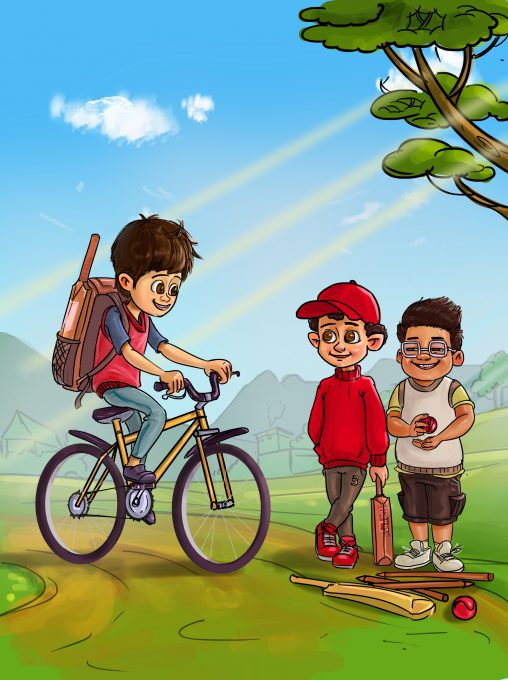 "Next Sunday, Vivek will be playing with us. You know what a great bowler he is! We will see to it that your batsmen are unable to score proper runs," Shivam's friend, Ankur said in his support.
"Alright, let Sunday come. We will see Vivek and his bowling," said Rahul.
Shivam's team had lost by 22 runs because Rahul's team had given them a huge
target of 170 runs in 20 overs. Saurav, their best batsmen, had scored many
fours and sixes.
The toss had been won by Shivam but he had opted for fielding first. He thought that his team would be able to reach whatever target was set for them.
But his team could not withstand any of Rahul's bowlers. All were bowled out, one after the other.
On Sunday, Rahul had packed his cricket kit and by 8am he was on his way towards the ground. His other teammates met him along the way. The match was to begin at 9am. Saurav and his team also arrived on time.
On seeing Saurav, Rahul said, "Come on, Saurav, today we have to see your batting excellence. Last week, Shivam said that you have a friend named Vivek, who is a skilled bowler."
"I know this Vivek. He used to study with me in the same school. We have
to beat them in this match. I will see to it that each ball of his gets a good hitting," Rahul's friend, Alam said swinging his bat.
Everyone had reached the ground and both the teams were ready to start the match.
But there was a problem —a foul stink was coming from the ground.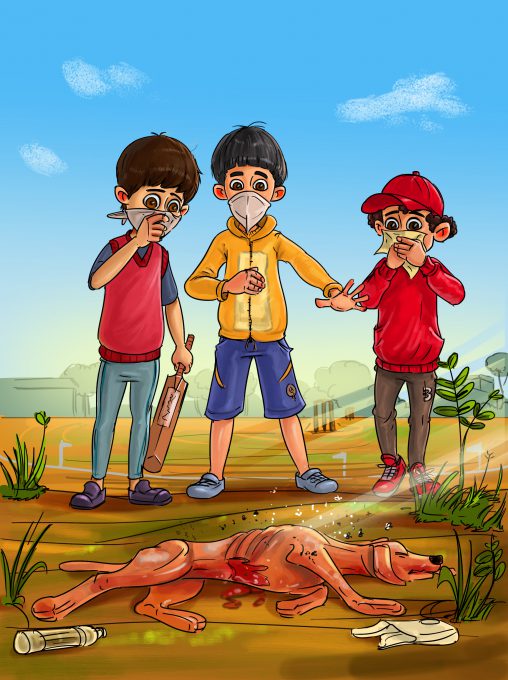 "It seems there is some dead animal here. It will be difficult to play," said Lalit.
No one felt like playing because of the stench. Rahul, Saurav and Shivam covered their noses with handkerchiefs and moved towards the spot from where the stench was originating to find out what was wrong. The other boys followed them and they saw that a dead dog lying there.
"Now, what will we do? Today's match is ruined," Tushar expressed his worry.
"There is good ground near my school. Let's go there and play," suggested Alam.
"No, let's not play today. It is our responsibility to remove the stench from here. Because if we cannot tolerate the smell, then just imagine how the people who live in the nearby huts will tolerate it," said Rahul.
Most boys agreed with Rahul.
"But how and what can we do?" asked Tushar.
"My father is an officer in the municipality. I will call him right away," said Vivek. He then called his father and gave him all the information.
"The arrangements will be made soon," said his father. Everyone was very happy.
Within a few minutes, a small loading cart, a garbage lifting machine and a few municipality workers arrived at the ground. Seeing the municipal vehicle, people from the locality also gathered there.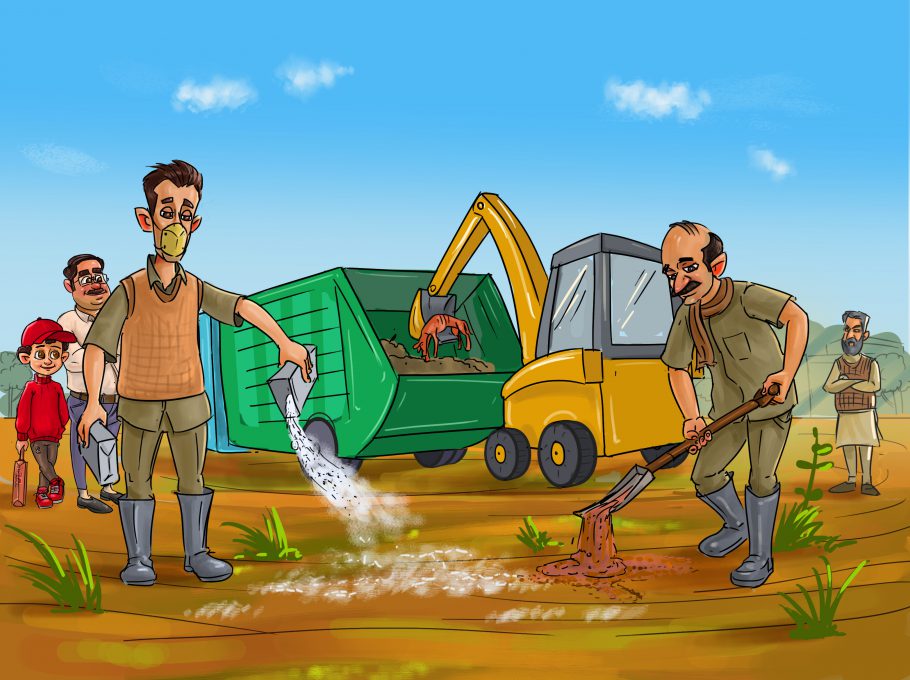 The municipality workers lifted the dead dog with the help of the machine and put it in the garbage vehicle. Then they put some soil from the ground on top of the carcass, so that it would not emit stench along the way. Then they spread some bleaching powder on the ground surface and left.
After a while, there was no stench on the whole ground. The cold and light breeze was making the environment around pleasant.
A man from the nearby hut said to the boys, "Children, you have done a great favour to us. We were not able to breathe properly since yesterday."
All the boys thanked Vivek's father.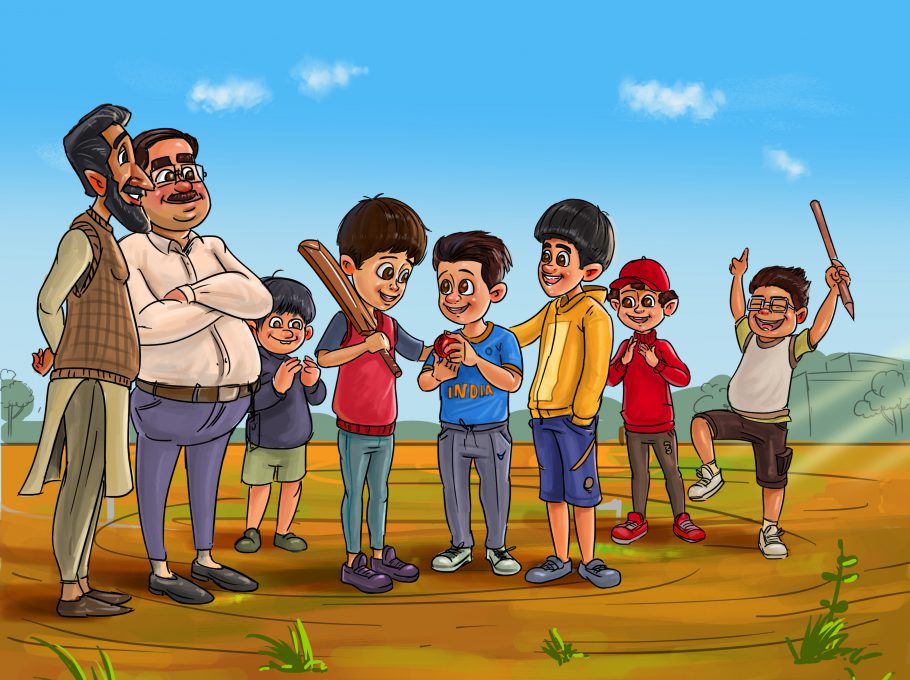 Rahul then turned to Shivam and said, "Vivek has done great bowling today. Just in one ball, he has changed the whole environment of not only our ground but of our whole locality."
All the boys cheered together. Then the coin was tossed and their game of cricket commenced.
Tags:
bedtime stories
,
bedtime stories for kids
,
bedtime stories stories for children
,
children moral stories
,
children stories with morals
,
empathize
,
empathy
,
friends
,
friendship
,
friendship stories
,
friendship story
,
fun stories for kids
,
Fun with rhymes
,
happy teachers' day
,
inspirational
,
kids rhymes
,
kids stories
,
moral stories
,
moral stories for children
,
new school
,
parents read
,
read aloud stories
,
school jitters
,
school stories
,
short stories with moral
,
stories with morals