Tinku and Pinku Rabbits were headed for the river to bathe in it, when Pinku saw something round floating on the waves.
"What's that?" He asked Tinku.
Tinku looked closely and said, "Can't you make out? It is a balloon."
"How did it come here?" Pinku asked again.
"Maybe some child came here to bathe and left it behind," Tinku said. "Wait here, I will be back in an instant."
"Where are you going?"
"To bring the balloon from the water."
"Wait," Pinku stood in front of Tinku and blocked his way. "I saw it first. How can you take it?"
"You did not even know what it was! Therefore, I will take the balloon," Tinku was adamant.
Pinku pushed him violently. "How can you take it? I found it therefore I will take it."
Tinku punched Pinku's face, who fell flat on the ground. "I said I will take it."
While both of them were busy quarreling, Bunty Monkey came. He was very crafty. He said, "Why are you crying? Tell me what happened? I will resolve this fight."
Feeling relieved, they narrated the entire incident to Bunty.
"Oh, so both of you are fighting over the balloon," Bunty's eyes glinted. "Wait, I will provide you with the best solution for this fight."
He leapt forward to take out the balloon.
"Where are you going?" Pinku and Tinku stood firmly in his way.
"To take out the balloon," Bunty replied
"With whose permission?"
"I do not need anyone's permission," Bunty smiled. "Now that both of you are unable to decide who should take the balloon, I think I should take it. In this way, your fight will be resolved."
The rabbits caught hold of the monkey's tail, "We will not let you take our balloon." |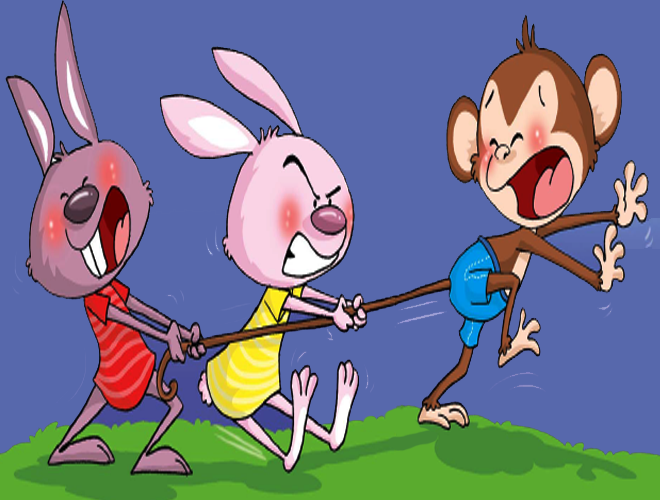 Bunty was enraged, "Release me, my tail will break."
"We will not, you will take our balloon."
"I said let go of me." said Bunty Monkey
"No way…" echoed the rabbits.
Meanwhile Kalu Crow flew there. He was very cunning and often acted as a spoilsport. He interrupted them, "What happened? Why are you fighting with each other like this?"
The rabbits told him everything.
Kalu said, "Oh, now I understand. You are fighting over the balloon."
"Yes," Tinku and Pinku said together. "But this monkey wants to grab our balloon with his slyness."
"Do not worry," Kalu said with a mischievous smile on his face. "I have a solution for this problem."
"What is it?"
Kalu said, "The reason for this entire fight is the balloon. If I burst it with my beak, then the fight will stop automatically, right?"
Kalu flew to the balloon and pecked on the balloon with his beak, but surprisingly the balloon did not burst.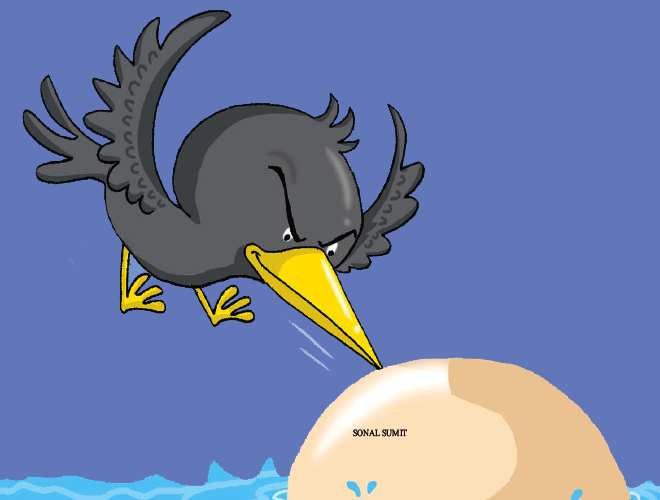 'It seems it is a very tough balloon, I should hit it with more force,' thought Kalu and acted accordingly.
"Oh my God… this blacky almost broke my head," Kalu was startled on hearing the shriek.
Then he saw Mangal wrestler emerge from the river, holding his bald head. "Just today I shaved my head because of the scorching heat, but this blacky did not let me take a proper bath."
"Stupid animals, what you assumed to be a balloon turned out to be Mangal wrestler's bald head. Run for your life," Kalu alerted them.
"Wait, I will teach you a lesson," Mangal picked up a stick and ran after them.
All four of them somehow saved their lives and went back empty handed to their respective homes.