King Rudranath's was sitting in his palace when two men entered, quarrelling with each other and stood before the King and bowed.
"Who are you and what is your problem?" he asked.
"I am Nathu and this man Meshu is my neighbour.''
"This morning, when I was feeding my chickens outside my house, Meshu was eyeing them from the other side. Our houses just have a wall between them. Then he said something about feeling hungry.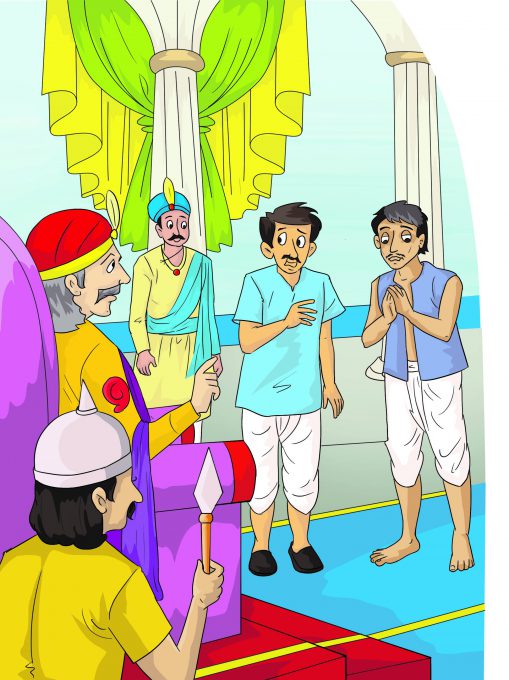 I did not pay attention to his words. But to my horror, in the afternoon, I found one of my chickens that has a limp, missing."
At first, I didn't suspect Meshu, but later when I thought what he said in the morning, I realised Meshu had stolen my chicken and had eaten it for lunch. I want justice, my King! It pains me to hurt Meshu but the guilty should be punished."
Saying this Nathu bowed once again.
The King looked at Meshu and asked sternly, "Did you steal his chicken?"
Shaking his head, Meshu pleaded, "No. No. I am not a thief, Your Majesty. I didn't steal his chicken."
"Believe me, Majesty. Nathu is lying," cried Meshu.
Trying to corner Meshu, the King asked, "But didn't you mention that you were feeling hungry when you saw his chickens?"
Meshu again shook his head helplessly and said, "No, Sir, you have it all wrong. Please let me explain…"
Nathu grew angrier and said, "Please don't listen to him. He is nothing but a thief and a liar. Punish him, Your Majesty or else he will only end up fooling you with his smart talk."
Prime Minister Shabir who had been silent up till now, suggested, "Maybe we should send someone to Meshu's house to see if a chicken was eaten for lunch. There will be feathers and bones in his house if he stole and ate it."
Nathu glared and said, "No use. I went to his house and searched well. Meshu was very intelligent and cleared all evidence."
Meshu pleaded with tears in his eyes, "Sir, I am a poor man and I haven't stolen anything from anyone. Moreover, I…"
Before he could say anything further, the King said harshly, "Enough. This is what all the guilty say. I, hereby order my men to throw you in jail."
"No… but… I am not a thief… please listen…" Meshu cried, horrified.
Pleased, Nathu whispered to Meshu "Serves you right." And then he went
his way.
However, Prime Minister Shabir felt something was wrong. He thought, "This is not right. The King should have ordered further investigation instead of simply believing Nathu's words. What if Meshu is innocent? The King would have then done injustice."
Later that evening, the King and the Prime Minister were strolling in the Royal Gardens. A little further, the King spotted a chicken that was limping.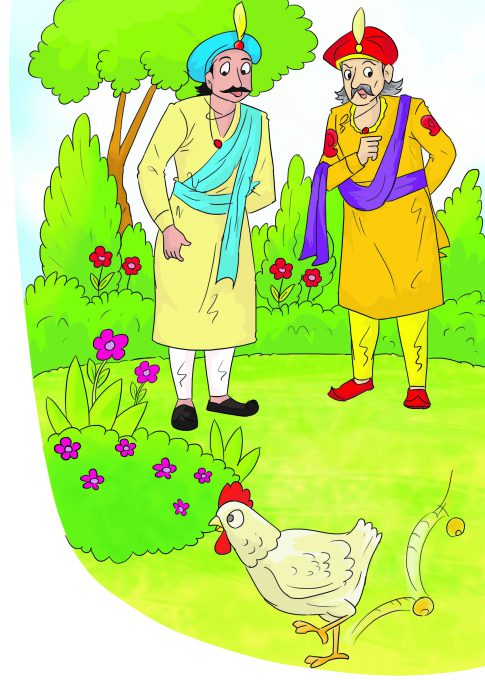 "From where did this chicken come in my garden?" the King asked, surprised.
"It must have strayed into the garden, Your Majesty," said Prime Minister Shabir.
Looking at it, the King said, "I am feeling hungry."
"Be careful of what you say lest this chicken goes missing. Nathu might
accuse you tomorrow of stealing and eating it. Jail life is not what Your Majesty is used to if I might say," Prime Minister Shabir said.
"What are you babbling? Have you taken leave of your senses? You know, I am a vegetarian. It was by chance that I said that I was hungry while looking at it. After all, it is nearing dinner time. And what has Nathu and jail got to do with it?" the King asked, annoyed.
"The same thing happened this afternoon with Meshu. It was by chance he said that he was hungry while looking at the chickens. After all, it was afternoon and nearly lunch time. I sent someone to his house and found out that he and his wife are vegetarians. Nathu accused Meshu to jail him. As you can see, this chicken is limping. I am sure it is Nathu's chicken. I will ask one of our men to find out."
Just then, a woman came running.
She bowed and said, "Oh King, someone mentioned that they had seen a limping chicken wandering here. It has been missing since morning. Is it here?"
She then spotted and grabbed it.
"Who are you?" The King asked curiously.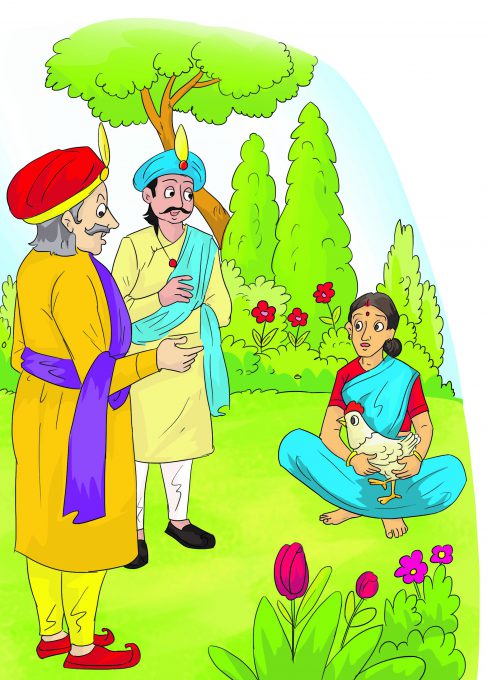 "I am Nathu's wife. Now, may I please go?"
"Yes, you may," said the King.
The Prime Minister said, "See, it is all clear. Nathu's wife was not aware of her husband accusing Meshu, or else she wouldn't have come here."
"Then why didn't Meshu tell that he was a vegetarian?" The King asked, puzzled.
"He tried to, but you didn't let him speak. You punished him, simply by believing Nathu's words. An innocent man is now in jail. Do pardon me for saying this," said Prime Minister Shabir.
The King realised his mistake.
"I have committed a big blunder," he said, "Poor Meshu. I shouldn't have passed a judgment without a proper enquiry. Had it not been for you, an innocent man would have suffered and a guilty man would have gone unpunished."
Then the King ordered, "Prime Minister, have Meshu released immediately and give him a gold coin to compensate for his troubles today. And make that Nathu do community service for a year."
Needless to say, never again did the King act hastily.
Tags:
adventure
,
adventure stories
,
be brave
,
bedtime stories
,
beware
,
bravery
,
children moral stories
,
children stories with morals
,
dramatic stories
,
english short stories
,
gangsters
,
kidnap
,
kidnapping story
,
kids stories
,
learning experience
,
moral stories
,
moral stories for kids
,
mystery
,
mystery stories
,
read aloud stories
,
short moral stories
,
stay away from strangers
,
stories for kids
,
stories on adventure
,
stories to learn