A guided missile was being installed on a vehicle called the missile launcher. The vehicle had seen such a device for the first time. He asked the machine, "Hello, my friend! Nice to meet you. I am seeing you here for the first time. Who are you?"
The missile smiled and said, "I am a machine made by Indian scientists and I can be controlled by computers to hit a specified target."
The vehicle who did not understand what the machine said, asked, "What is your name? Maybe I'll understand you better with your name."
"I'm a guided missile," said the missile.
"Ah!" said the vehicle and asked, "Weren't you developed by the missile man,
Abdul Kalam?"
The missile was feeling happy that the vehicle had recognised her and said, "Yes, that's me! Missile Man Abdul Kalam along with other Indian scientists made me by developing the technology for the first Indian guided missile!"
The vehicle was curious and said, "Tell me more about Abdul Kalam."
"All right!" the missile said. "I have been with him for a long time. He and his team designed and built me. Do you want to hear the story?"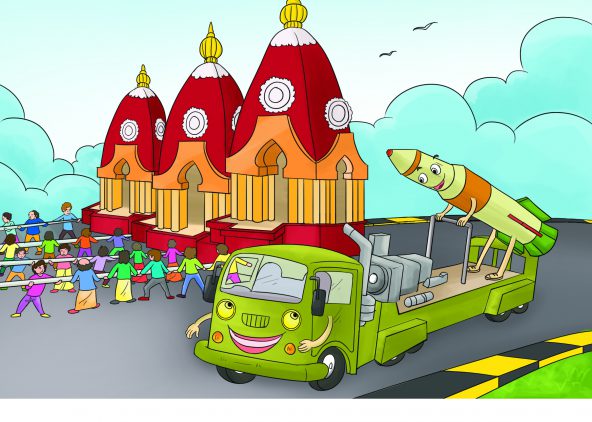 "Yes," the vehicle said. "I've been alone for a long time. There's no one to talk to me here. I would love to hear his story."
The missile loved to talk about his maker. Who would not? He said, "Abdul was born on October 15, 1931, in the town of Rameswaram in Tamil Nadu. Rameswaram is a famous tourist spot. It is at the tip of the Indian peninsula."
"Yes, Rameswaram is a beautiful town where one can see the three different water bodies—the bay of Bengal, the Indian ocean and the Arabian sea, meeting each other," added the vehicle.
"Yes," said the missile. "Abdul's father, though not formally educated, was a man of clear and simple ideas. He was strong-willed and believed in hard work. Their family was very poor. His father rented boats to fishermen. The family income was limited. Abdul's family was huge and there were many mouths to feed."
"Abdul studied in Rameswaram. He told me once his teacher Iyadurai was teaching students about the science of flying, but the children could not understand anything."
"So Iyadurai took them to the seashore, and showed them birds flying there, and explained the lesson again. This had a huge impact on Abdul and he decided that he would build a career in aviation science when he grew up."
"His teacher always said—to achieve success in life, one must have strong will power, faith and patience. Once a student understands and masters these three qualities, he/she can achieve anything in life."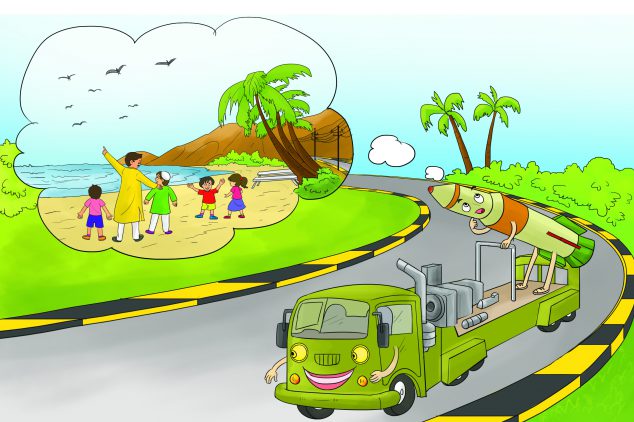 "So true," agreed the vehicle.
"Abdul made this his life motto. When his family faced money difficulties, he took on the job of distributing newspapers in the morning and then went to school after that to study."
"Sometimes, his math tutor called him at 4am for extra lessons. After class, he would go and distribute newspapers, and later go to school. After returning from school, he would sit at the flower shop to help his father."
"He faced many difficulties in life," said the vehicle, feeling sad for young Abdul.
"Yes," said the missile. "But he did not let the difficulties stop him. He just kept working on them one step at a time. In 1957, he graduated in Aeronautical Engineering from Madras Institute of Technology."
"Oh yes! You did say that flying was his childhood dream!" said the vehicle, excitedly.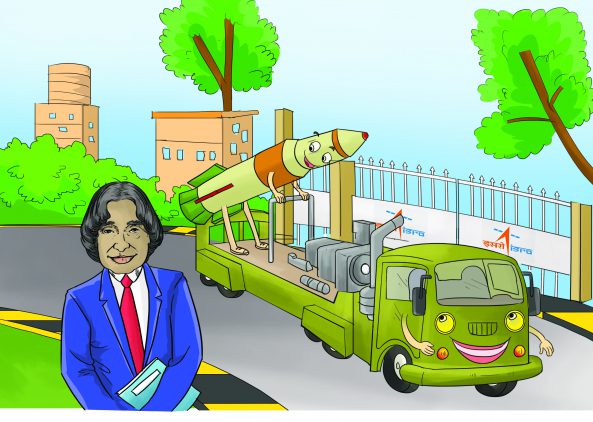 "Yes, he realised his dream. And now it was time to put to work what he had studied. After graduation, he joined the Defence Research and Development Organisation, an Indian military research institute, as a scientist."
"Soon, he joined the Indian Space Research Organisation (ISRO), where he worked with a team of rocket engineers to set up a rocket launching station, which is used even today. In his career at ISRO, he built the Satellite Launch Vehicle or SLV. And in July 1980, for the first time ever, India successfully launched satellite Rohini in space using the SLV. India became one of the few countries to have done so."
"Due to his contributions, Abdul was made the Project Director-General of ISRO. He continued working on his core passion along with other scientists. Their achievement of launching satellite Rohini in space made India an exclusive member of the International Space Club."
"Wow! That is indeed a great honour for India," said the vehicle, feeling very proud.
"Yes! But Abdul dreamt India should achieve advanced space technology. He wanted India to be honoured by the whole world. Vikram Sarabhai had made it possible for India to enter the field of satellite and launch vehicles. Abdul worked with the team at ISRO on the designs of target-controlled missiles or guided missiles that built missiles like 'Prithvi' and 'Agni'."
"Right!" said the vehicle. "And you're built on the same technology. The fact that you're installed on me makes me proud too."
"Thank you!" said the missile. "I'm a guided or target-controlled missile.
Abdul was then entrusted with the development of nuclear technology to strengthen India's defence capabilities. He was also appointed as the adviser to the Defence Minister from July 1992 to December 1999. And that introduced
him to politics."
"Yes, I know some of that," said the vehicle. "He became the President of India on July 25, 2002. And remained the president till July 25, 2007."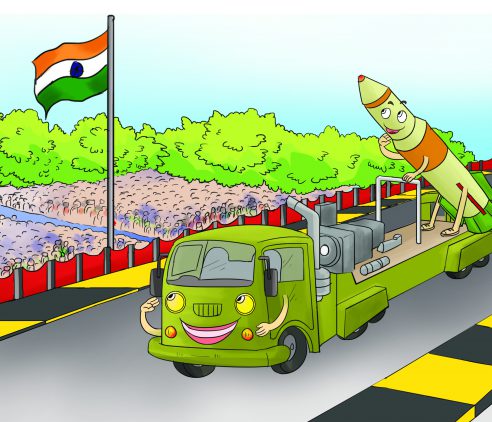 "Yes, and after that, he stepped down from politics. He spent his time studying and writing books. He shared his knowledge with the students and at the same time wrote several books to enlighten and guide the youth. He said that no work in life is difficult. If one is determined, one can overcome all difficulties. His books include Wings of Fire and India 2020."
"He had clearly defined goals for India in his book India 2020. While teaching a class at the Indian Institute of Management, Shillong, he suddenly had a heart attack."
"What?" said the vehicle, in shock. He continued working until the last breath of his life," said the missile and paused. 
"I heard that he received many awards including the Bharat Ratna, Padma Bhushan, Padma Vibhushan and the Hoover Medal. But I don't know his full name till today. Do you know it?" asked the vehicle.
"Yes," said the missile. "His full name was APJ Abdul Kalam or Avul Pakir Jainulabdeen Abdul Kalam."
At that moment, someone started the vehicle. "Well, it's time for me to work now! When we catch a break, we will chat again!" said the vehicle.
The missile looked at the scenery around and enjoyed the view and its thoughts on its creator
Tags:
abdul kalam
,
bedtime stories for kids
,
bedtime stories stories for children
,
Champak
,
champak stories online
,
children's short stories
,
education
,
educational stories
,
historic stories
,
India
,
indian history
,
inspiration
,
inspirational
,
inspiring stories
,
kids learning
,
learning in fun
,
missile
,
parents read
,
read aloud stories
,
reading
,
reading for kids
,
reading is fun
,
science knowledge