Abhay was fond of puppies. He demanded and pleaded with his parents to get a pet dog, but every time they gave him some reason and turned him down.
"It's not easy to have a pet, Abhay! It's a lot of responsibilities. Humans can speak and ask for what they want, but pets can't.
Just imagine if we do not understand the needs of the animal, how miserable it will be for him here," dad explained.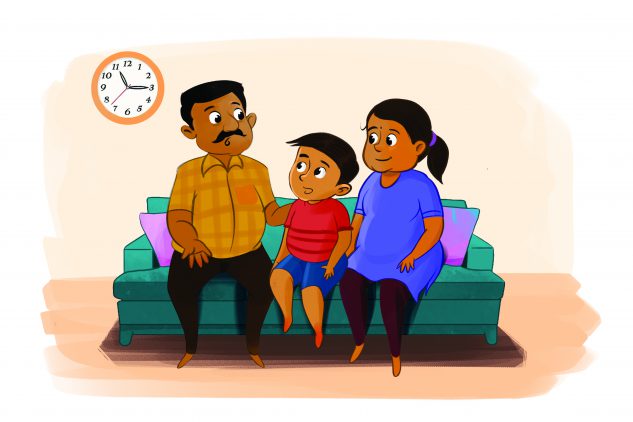 "That's not all! If we go out on vacation, there will be no one to take care of it. We won't be able to take it with us, nor leave it alone," said mom.
Abhay would get sad. He knew his parents were right, but he really wanted a pup.
One day, Abhay left for school when he heard a low cry. He looked around. In a shallow drain near Uncle Sharma's house were some tiny puppies! Abhay carefully looked at them. They were of different colours—black, grey, white, spotted—all huddled together.
Abhay stared at them for a while and then started counting them. Before he could count, the puppies huddled together, making him forget his count.
Abhay giggled. He separated them and started counting again.
While he was counting, their mother came back and looked at Abhay, bared her teeth and growled.
Abhay stepped back. He knew the mother was being protective about her babies.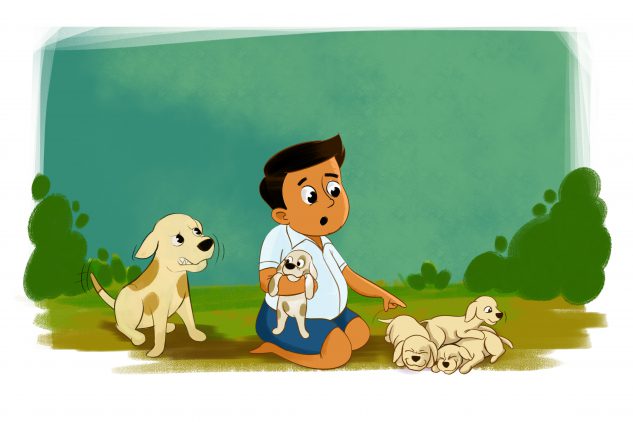 His school van also arrived so he left for school. But throughout the day, Abhay's mind was occupied by the puppies.
After returning home, he quickly changed, had his lunch, and sat down to finish his homework. Mom was pleased to see him studying and went for her usual rest.
"Mom will take a nap for an hour now.
I'll go and play with the puppies till she wakes up," thought Abhay as he smiled and went out.
Bobo, the mother of the puppies, was not around. She had probably gone out to eat.
Abhay picked up the puppies and started petting them. He loved the spotted puppy and picked it up and walked home with it.
Mom was still asleep when he entered.
Abhay took an old shoebox, placed some towels inside and put the puppy in it. He put some milk in a bowl and tried feeding it to the puppy, but it could not drink properly.
Abhay could not take the puppy inside the house, for if mom came to know she would ask him to take it back. And Abhay did not want that.
He started thinking of ways to convince dad and mom so they would let him keep the puppy.
An hour passed. Abhay was still playing with the puppy. He heard his mother wake up. He covered the shoebox and quickly started riding his bicycle. Mom did not suspect anything.
When dad came home from work and called Abhay, he went inside the house, keeping the shoebox covered with the puppy still in it.
Meanwhile, Bobo came back and started looking for her lost puppy who heard his mother and came out of the shoebox.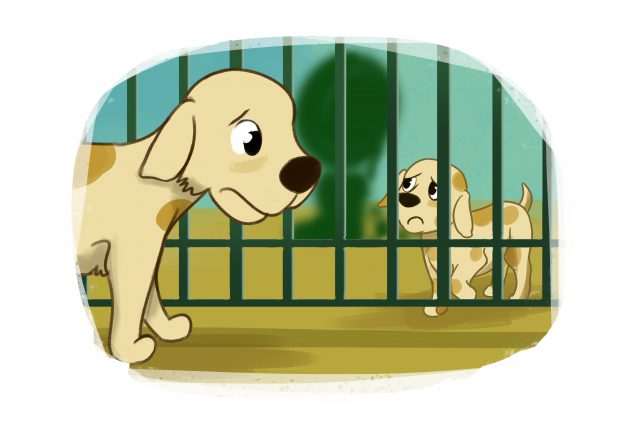 Bobo realised that her puppy was inside Abhay's house but couldn't get in as the door was shut.
Bobo stood outside the main door, barking. The pup ran to the door but could not go out. Bobo tried to get inside but she could not either.
Mother and child, each on one side of the door, were helpless.
Bobo's barking made a lot of noise. Mom went out and saw the puppy and the shoebox.
She realised what had happened. She opened the door and the pup ran out to its mother. Bobo picked up the puppy gently by its neck and went back to her other pups.
Abhay saw the whole thing. He was upset when he saw the pup leave. Mom called him inside the house but did not say anything about this.
"Abhay, I'm going to grandma's place for a few days. She's not keeping well. You will be here with your sad," she said, while packing her bag.
Abhay started thinking. He had never been away from mom. From the time he woke up in the morning till he went to bed at night—mom was there for his meals, homework and games. The thought of spending even one day without her around gave him shivers.
Then he saw the pups and Bobo pass by the house.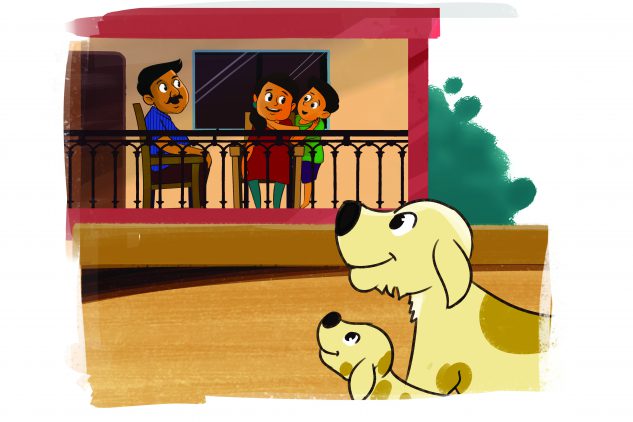 "How selfish of me! I can't live a day without mom, and I was planning to separate the pup from its mother forever," thought Abhay, feeling bad about what he had done.
"Abhay! Let mom go! We'll bring the spotted pup home tomorrow. You can play with him and you won't even notice that mom's gone," said dad.
"No, dad! Even that pup wouldn't want to stay away from his mom. I saw how much he was crying today. I don't want the pup to be separated from his mom just like how I don't want mom to go," said Abhay and hugged his mom.
"I'm not going anywhere! I was just trying to show you that just like you can't stay away from me, baby animals also need to stay with their mothers," smiled mom.
The spotted pup stood outside the door and wagged its tail.