There was once a huge camel named Titu. One day, he wandered into a thick, green forest.
Now, the animals in the forest had never seen such a tall animal and he thus appeared strange to them. 
Pintu monkey was the first to talk to him. He climbed up a tree so that he could see Titu better. "Who are you, and where are you from?" asked Pintu. 
"My name is Titu and I live in the desert. I was passing through," said Titu.
"There's no space in this jungle for more animals. Go away!" said a scared Dhinki deer, hiding behind a tree.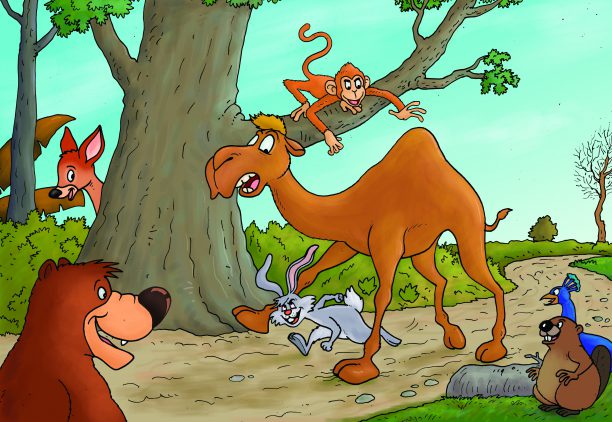 "I do not wish to make this my home. I will stay here for a short period," said Titu. "So, let's be friends!"
However, no one befriended Titu. Instead, they made fun of him. Bernie beaver laughed at his height, saying that Titu was as tall as a tent! 
Titu, however, did not respond to the taunts.
Soon, the animals realised that Titu, despite being huge, did no harm. They took advantage of his gentle nature and harassed him.
Cheeku rabbit ran swiftly between Titu's long legs to trip him over. Poor Titu jumped in fright! He was scared of crushing the little rabbit beneath his legs. Cheeku, on the other hand, proud of his prank, clapped his hands in glee.
Pintu pulled the next prank. He jumped from a treetop onto Titu' back. 
Thump!
He then rattled Titu's hump and ran away quickly.
Golu bear was next. He dangled from Titu's long neck and laughed heartily when Titu tried to shake him off.
By evening Titu was tired. His first day in the forest was bad. He decided to leave the forest early next morning.
That night, it rained heavily. 
The river which was flowing through the jungle soon began to flood. At day break, most of the animals' houses were underwater.
As the water level continued to rise, the animals got worried.  
Perry parrot decided to fly out in search of safe ground. He returned with good news, "The ground on the other side of the riverbank is high. The floodwaters haven't reached that part yet. We should move there."
Scared, Dhinki deer cried, "But the water in the river is flowing fast. If we cross the river now, we could drown!"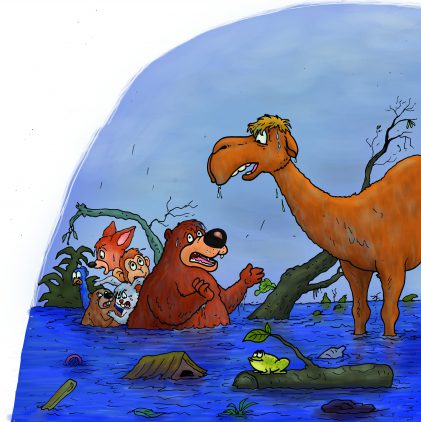 "Alas! We will drown if we stay here," said Pintu monkey, in despair.
The water level was rising quickly. Soon, it seemed that the rest of the animals' houses would get submerged too. The animals were helpless. Confused and scared, some began to cry.
"I will help you," said Titu, standing in water, which hardly reached his knees. 
"You will?" asked a surprised Golu.
The animals struggled to stand in waist-deep water as they clung to each other. 
"Yes," said Titu, nodding his head.
"But, we played pranks on you!" said Pintu monkey, surprised. He could not believe that the same Titu that they had troubled, wanted to help them.
"True, you behaved in a manner that made you feel good," said Titu. "I will do what I feel is right." He smiled, "I have always considered you all friends. And a friend in need is a friend indeed!"
The animals hung their heads in shame.
Titu spoke, "Let's not waste time, my friends. The water level is rising! Climb onto my back and I will take you to the other side, in turns."
"Will it be safe?" asked a trembling Cheeku rabbit.
"My legs are long. So, I can cross the river easily. Hold on to my hump, and do not let go. For if you do, you will fall into the river and drown," warned Titu.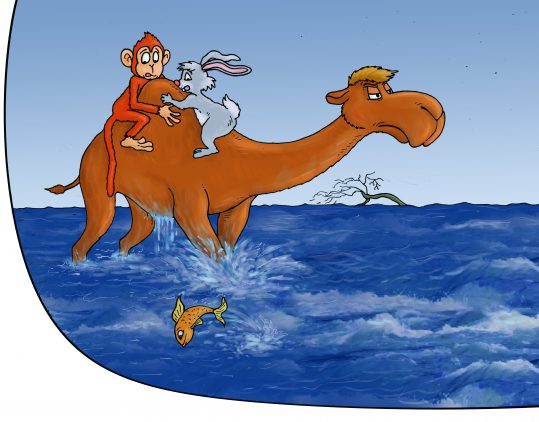 It was decided. The small animals crossed the river first, followed by the big animals.
In a span of two hours, Titu took all animals to safety. "Titu, you are good! Please forgive our rude actions," said Golu bear with folded hands. All the animals joined him in pleading for forgiveness.
Titu replied, "You are a nice lot, just a little naughty. If you stop with your pranks, you will be a whole lot nicer." With that he let out a loud laugh, and all the animals joined him. 
"We will all stay here till the water level comes down. Then we will arrange a feast for Titu!" said Golu. Everyone clapped.
While waiting for the flood to clear, the animals kept themselves busy. Some started collecting food, while others like Pintu monkey, entertained everyone with his funny tricks. Koyal cuckoo sang a song, while Shyamu Peacock danced. There was an air of fun and frolic around.
Two days later, the floods cleared and the animals returned to their homes. 
Titu had made friends with all the animals who took great care of him.
Yet, Titu started missing his home. 
One day, he gathered all his friends and said, "Dear friends, I would now like to return to the desert. It's been a long time since I left my home. My parents must be worried."
"Please stay," pleaded Dhinki deer. However, the animals knew that Titu's reason to leave was justified. They were silent. Bernie beaver, who had grown close to Titu said, "If you can't stay, I will accompany you back to your home."
"So will I," added Pintu monkey.
"I would love to take you all to my home in the desert, but you will not survive the desert heat," said Titu. He explained, "This jungle is full of lush, green trees and flowing rivers. The desert is the exact opposite. It is extremely hot, with no signs of trees or water, for miles!"
This surprised the animals. Golu asked, "If there is no water, how do you quench your thirst?"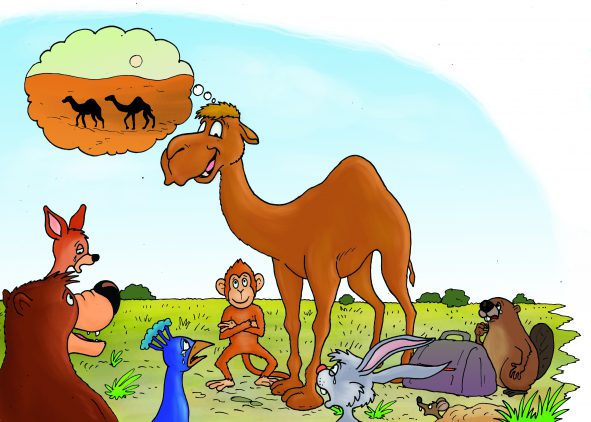 "We camels have a sac inside our neck. We fill that sac whenever we find water. We then quench our thirst with droplets of water from that sac. Hence, we can stay for nearly a week without water. But that is not possible in your case friends," said Titu. 
The animals realised that they could not accompany Titu to the desert, nor ask him to stay back. Everyone was sad.
Golu finally said, "Go if you must, but promise that you will visit us all at least once, every year."
"I will, for sure," said Titu, happily. He too was a little sad to leave his friends.
The whole jungle had a grand feast for Titu. The animals danced, sang and rejoiced. 
The next morning, Titu started for his home in the desert.
All the animals thereafter awaited his return.
Tags:
adventure stories
,
animal stories online
,
animated stories
,
bedtime stories for kids
,
champak stories online
,
children online stories
,
children short stories
,
children stories
,
children's short stories
,
english short stories
,
english stories for kids
,
fun stories
,
funny stories
,
kids short stories
,
online stories
,
stories to read