One day Baddy fox announced in Champakvan that he would like to take all the animals on a trip to the moon.
Everyone became very excited.
"Are you really taking us to the moon?" Damru donkey asked in amazement.
"Yes. All, but the big and heavy animals. Otherwise our rocket will not be able to take off from the ground." Most animals started laughing at Baddy's words.
"But where is your rocket?" Cheeku rabbit enquired. "And also, what would be the cost of taking us to the moon?"
"Our rocket is on an island not far from here. And for the cost, my motive is not business or to make money. I just want to give you the joy of going on the moon.
So you do not have to pay anything for the trip," replied Baddy.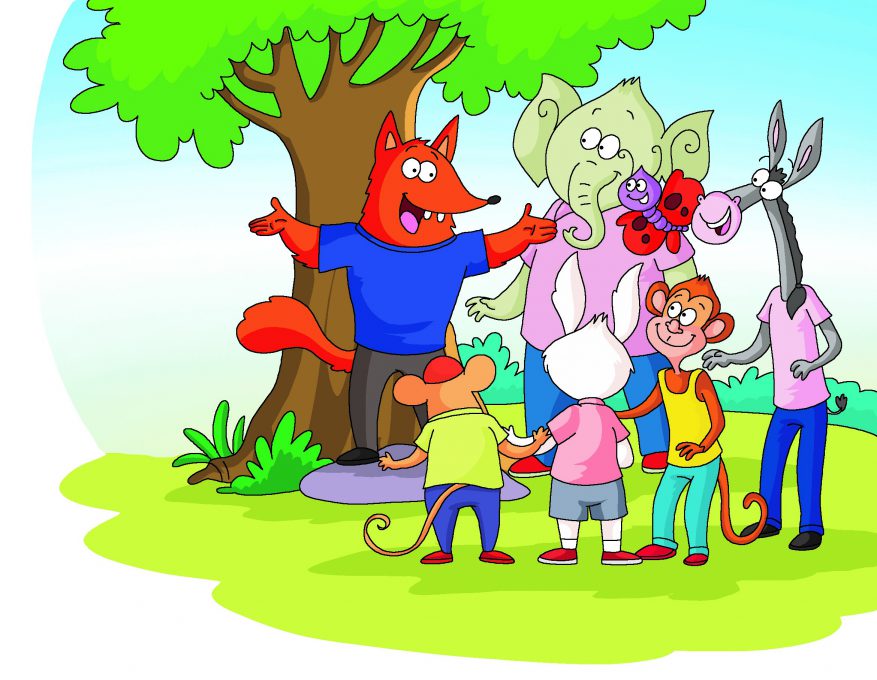 All the animals started shouting in joy.
"There seems to be something fishy here," whispered Cheeku to Jumpy monkey.
"We have to be careful."
Both went to king Shersingh and told him about Baddy's trip to the moon.
"If Baddy wants to do this, then it is a very good thing. Why are you troubled by his offer?" asked Shersingh and told them to leave the matter.
Cheeku then said to Jumpy, "We will have to keep an eye on Baddy on our own."
Meanwhile, in the forest there was a fierce competition among the animals to go to the moon. Most of the small animals had registered their names with Baddy.
"Please be ready for the trip tomorrow. I will take you on the motor boat, to the island. From there we will go on the rocket to the moon. If the weather remains favourable, then we will be able to go on the moon tomorrow itself," said Baddy and all the animals became all the more excited.
"I will take my favorite dress with me," said Titu butterfly excitedly.
"No, please don't bring any clothes or anything else. You will have to wear space-suits to the moon that we will provide. And yes, one more thing, leave your money and jewellery back in your house," Baddy said. "We will return in a week."
All the animals waited impatiently for the evening.
In the evening Baddy came with a motor boat to take them.
"Cheeku, why are you not coming?" asked Baddy.
"Baddy, please go ahead. I have got some urgent work to finish. My friend Jumpy
will go with you," said Cheeku with a smile.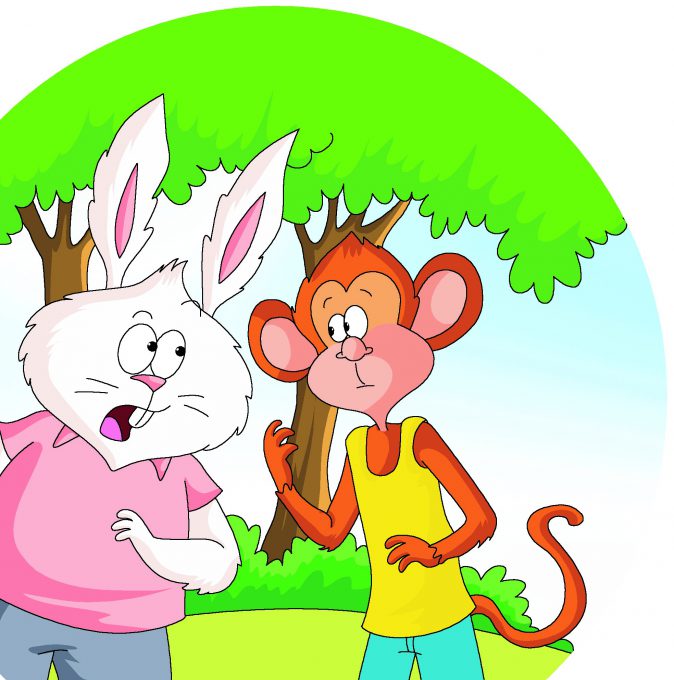 As soon as the motorboat left, Cheeku rushed to King Shersingh.
"Sir, here is something very interesting," said Cheeku opening his laptop. He started the search engine and typed Baddys' name. Soon many web pages came on the screen. He selected one and clicked on it.
"This is Baddy," said Cheeku. "But why has the police caught him?" King Shersingh spoke out.
"Because he and his companions had looted the animals of Sonavana. He was even sentenced to jail. But he tricked them and ran away. Now he has come here," said Cheeku.
"What does this mean?" asked Shersingh.
"It means that Baddy and his friends are thieves. They promise to take the animals to planet Jupiter or to the moon, and take them away from their houses. Then at night his companion steals all valuables from the locked houses. As soon as Baddy is informed that all the valuables have been stolen, he escapes to another forest. And his companions join him there," explained Cheeku.
"This is a big conspiracy!" exclaimed Shersingh. "Why didn't you inform me earlier?" asked Shersingh who was visibly angry.
"I tried to warn you earlier sir, but you felt it was alright for Baddy to take the animals to the moon," replied Cheeku.
"Now what shall we do?" asked Shersingh.
"Don't worry sir. Nothing will happen. I have sent my friend Jumpy, with them. Tonight Baddy's friends will try to steal from the houses of these animals. We can catch them red-handed. And with their help we can catch Baddy," Cheeku explained.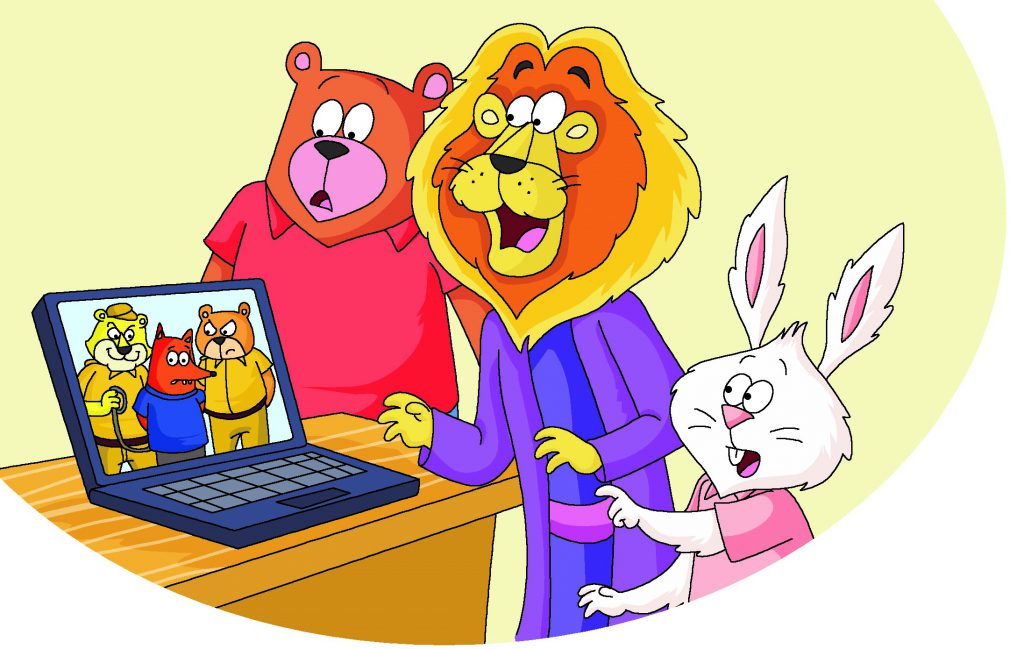 "But we have to be very careful. If Baddy gets the wind of this, he may harm our citizens," Cheeku continued.
"You need not worry. I am going to talk to Inspector Blacky Bear," Shersingh assured Cheeku.
At night Inspector Blacky and his team spread out in the forest. They hid outside the houses of the people who had gone on the trip.
Suddenly some movement was seen outside Damru donkey's house. Inspector Blacky gave the signal, and his team caught Laptu jackal from there and on questioning him they were able to catch all the others.
"But how do we catch Baddy? He is very cunning," asked Shersingh who was really worried.
"We have a plan for that, too," said Cheeku and whispered something in Shersingh's ear.
Laptu jackal phoned Baddy, "Hello Baddy, we have collected all the treasure. Please come here quickly on your motorboat, so that we can get out of here immediately."
"That's perfect! I have mixed sleeping powder in the food of the animals. They are all sleeping soundly. I am coming on the motorboat. Meet me at the riverside," Baddy said on the speakerphone, so that, Cheeku and Shersingh could hear whatever Baddy said.
In a few hours, Baddy was in police custody.
The next day when the animals woke up, they could not understand anything.
"Have we reached the moon?" asked Meeku rat looking around.
"No, you are not on the moon. You are in Champakvan. But Baddy who was taking you on a trip to the moon, is on a trip to jail," said Cheeku. Shersingh and Inspector Bear started laughing. The other animals could not understand anything and they started looking at each others' face.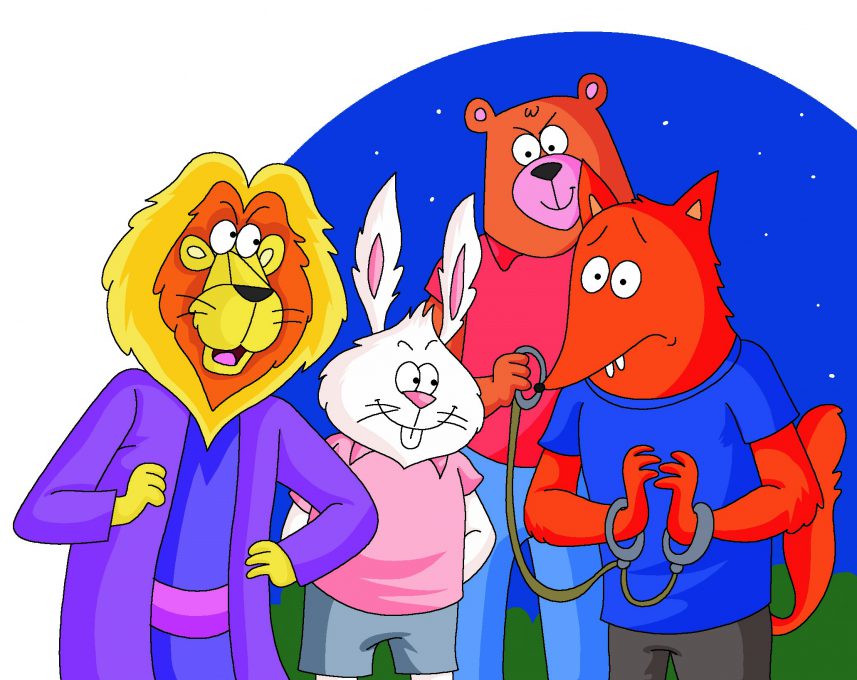 Later when Shersingh told them what had happened, they all praised and thanked Cheeku.
Tags:
adventure stories
,
bedtime stories
,
Champak
,
champak online
,
Champakvan
,
Champakvan story
,
cheeku
,
children short stories
,
children stories with morals
,
children's short stories
,
english short stories
,
english stories for kids
,
Grandma stories
,
Grandmother tales
,
Meeku
,
moral stories for kids
,
online stories
,
online stories for kids
,
science
,
Science fiction
,
sher singh
,
stories for kids
,
stories for kids online
,
stories online