Jumpy monkey and Gingy squirrel were good friends. They stood by each other, no matter what.
But Kaalu jackal envied their friendship. He spread false rumours about them among other animals. However, his actions made no difference to Jumpy
and Gingy.
The animals of the jungle were well aware of Kaalu's wicked and mischievous nature.
One day, Kaalu was standing outside Blacky bear's sweets shop. Just then, Meeku mouse arrived, riding his favourite bicycle.
While parking, Meeku forgot to lock the bicycle as he was eager to purchase his favourite carrot halwa from Blacky's shop. Blacky's sold the best carrot halwa in the whole jungle. Many customers would go to his shop to buy it.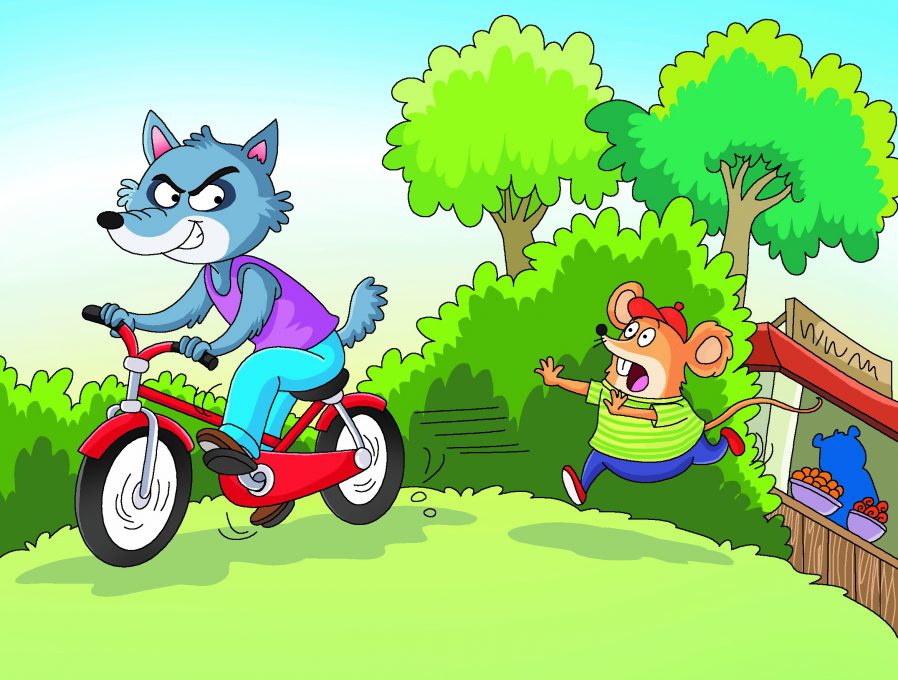 Kaalu saw Meeku carelessly park his bicycle. This was the chance he had been looking for. He saw the crowd at Blacky's shop and knew Meeku would take time, which would be enough for him to steal the bicycle and flee.
But as Kaalu was about to ride away, Meeku turned around and saw him
steal it.
Meeku chased Kaalu, shouting, "Thief! Thief! My bicycle! Thief! Thief!" The other animals heard Meeku shout but because Kaalu rode fast, no one could get hold of him. Meeku, too, couldn't catch him.
The animals surrounded Meeku. A few of them asked, "What was stolen? Did you get to see who was the thief?"
Meeku narrated the entire incident while sobbing bitterly. Jeetu cheetah, Jumbo elephant, Lambu giraffe, Sheru dog, Rattu rat and other animals assured Meeku that they will catch the thief.
Meeku had not seen the thief clearly so they didn't know where to start. They
just followed the road and looked for the bicycle.
After riding for a while, Kaalu was tired. He saw a children's park close by and thought he could take some rest. Suddenly, he realised that Jumpy and Gingy stayed near the park.
He saw Jumpy standing in one corner waiting for someone. He grabbed this opportunity and went to Jumpy with the stolen bicycle.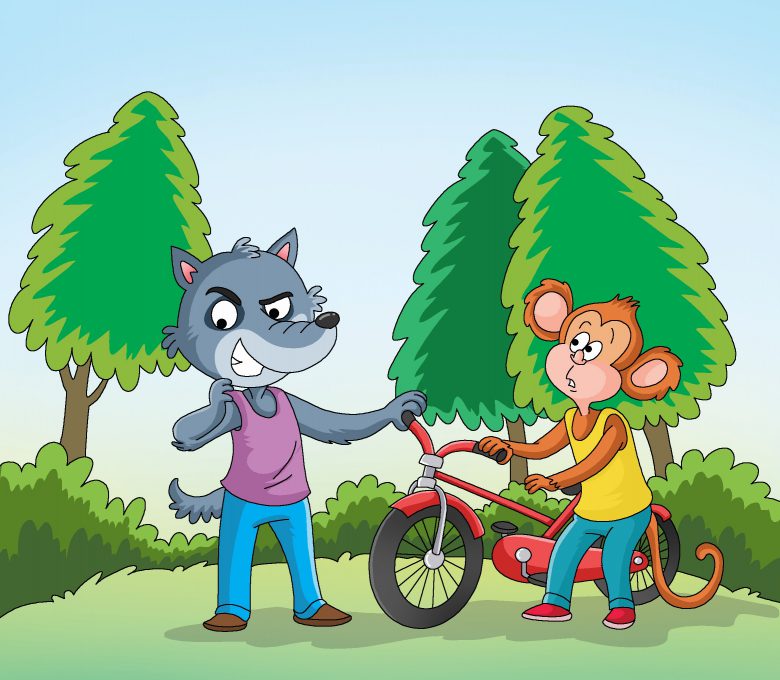 "Jumpy, I need to go to the toilet urgently. Can you please take care of my bike?" asked Kaalu and before Jumpy could respond, he handed the bike to him and went across the line of houses and hid behind the bushes.
Meanwhile, the crowd of animals chasing the thief reached the park. Seeing his bicycle standing there, Meeku screamed, "Here is my bicycle and this is the thief!"
Jumpy was shocked. The crowd of animals surrounded him. The sky above the park started to fill with noisy uproars. No one was paying attention to what he was trying to say. Everyone thought he was the thief! Hearing so much noise
in the park, Gingy came down from her treehouse.
Jeetu had grabbed Jumpy's collar. He was about to hit him when Gingy cut through the crowd and reached the scene. Howling in a sharp voice, she said, "Stop! If anyone tries to touch my friend, there will be consequences."
Hearing the sharp voice of Gingy and seeing her rage, Jeetu put his hand down and grunted, "Your friend, Jumpy, has stolen this bicycle. He deserves a beating and then we will hand him over to the police."
"Jeetu uncle, you know Jumpy quite well. Do you think he can be the thief? I can say with certainty that Jumpy can't be the thief. I believe in him. At least, give him a chance to explain," said Gingy.
"She is right. We should give Jumpy a chance to explain. He has been trying to talk but we weren't listening," said Jumbo.
Jeetu released Jumpy from his grip and let him speak.
Jumpy narrated what had happened and pointed towards the bushes indicating that Kaalu had walked in that direction.
Kaalu was watching closely from behind the bushes. When Jumpy pointed in his direction, he tried to sneak without being caught. But the moment he moved, Jeetu grabbed him and dragged him out. Kaalu didn't realise that Jeetu was quick.
Scared of the angry animals, Kaalu admitted to his mistake and apologised
to Meeku who immediately called the police.
Jumpy thanked Gingy for helping him.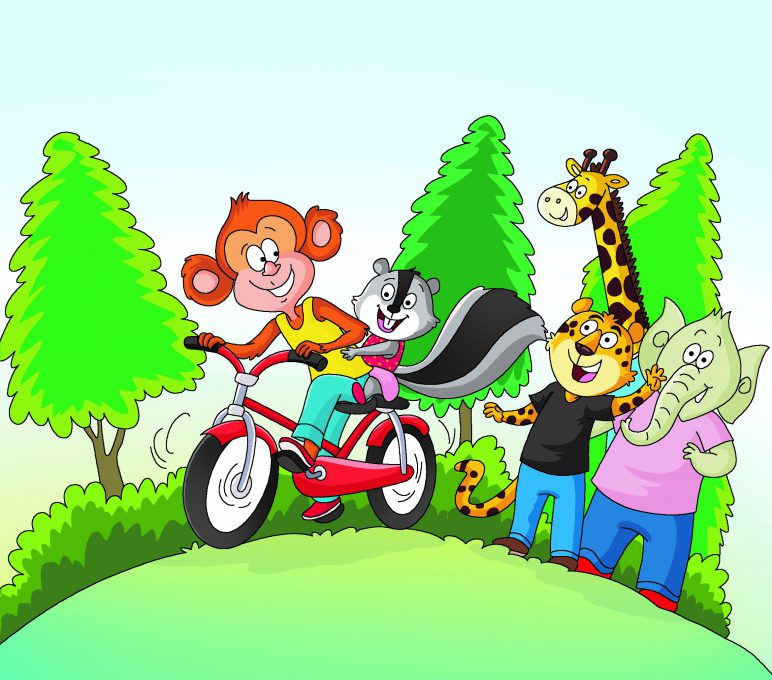 "Jumpy, there is no need to thank me. I'm your friend and I will always help you in times of need," cheered Gingy.
Filled with joy, Jumpy hugged Gingy and they went together for a ride around the forest
Tags:
animal stories
,
animal stories online
,
animated stories
,
bedtime stories
,
bedtime stories for kids
,
boasting
,
champak stories online
,
Champakvan
,
Champakvan story
,
children moral stories
,
children online stories
,
children short stories
,
children stories
,
children's short stories
,
english short stories
,
english stories for kids
,
fun stories
,
funny stories
,
kids short stories
,
online stories
,
read aloud stories
,
school stories
,
stories to read