Jeena jackal was one of the richest animals of Bandipur forest. She owned many factories where most animals of the forest worked and earned a living from.
No one in the forest objected to her building more factories as that meant more animals would get jobs.
She had a say in everything that happened in the forest. And to build factories, she kept cutting more and more trees within the forest.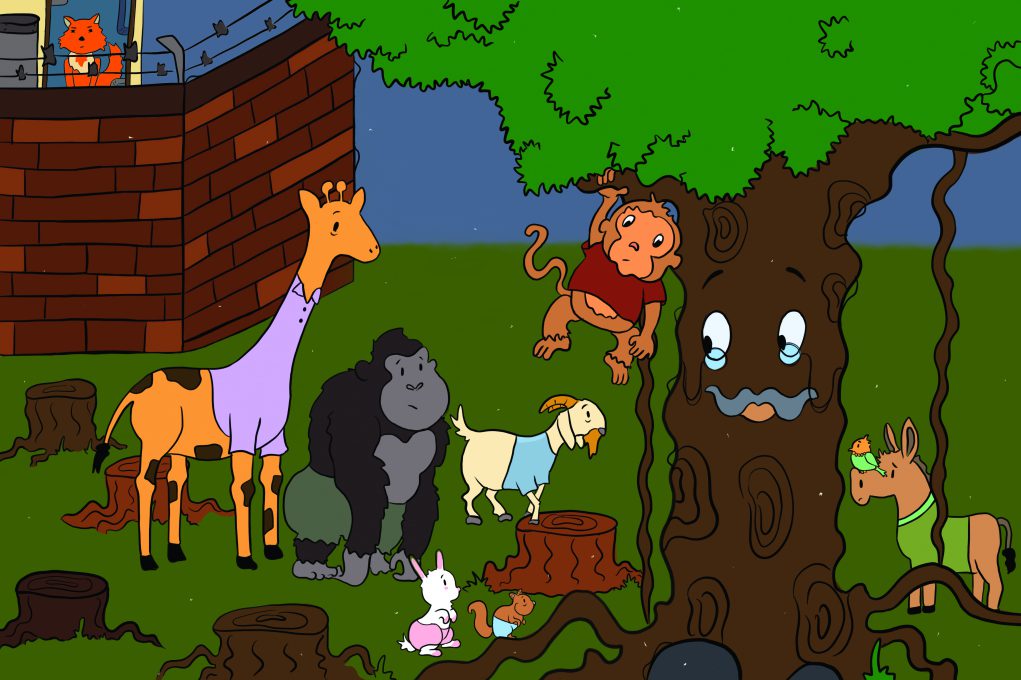 The old Banyan tree was disturbed to see this. He requested Gogo gorilla to call a meeting of all the animals to discuss the matter.
The animals respected the Banyan tree and immediately agreed.
Next evening, the Banyan tree shared his concern about the building of new factories by cutting trees in the forest, as that was leading to a rise in the air pollution levels and was causing breathing problems for all animals.
"We have to control the increasing pollution levels before it is too late and it becomes dangerous and harmful for all of us," he said.
The Banyan tree reminded everyone that Jeena had promised to plant trees in the open spaces in the forest when she had cut trees to build the factories. Thus far she hadn't planted a single tree.
His words had a huge impact on all.
After listening to the Banyan tree, Rancho monkey, who was sitting on a tree nearby, said, "We are going to celebrate Ozone Day in our school and have been asked to bring a sapling on that day."
"Ozone? What is that?" asked Gingy goat, curiously.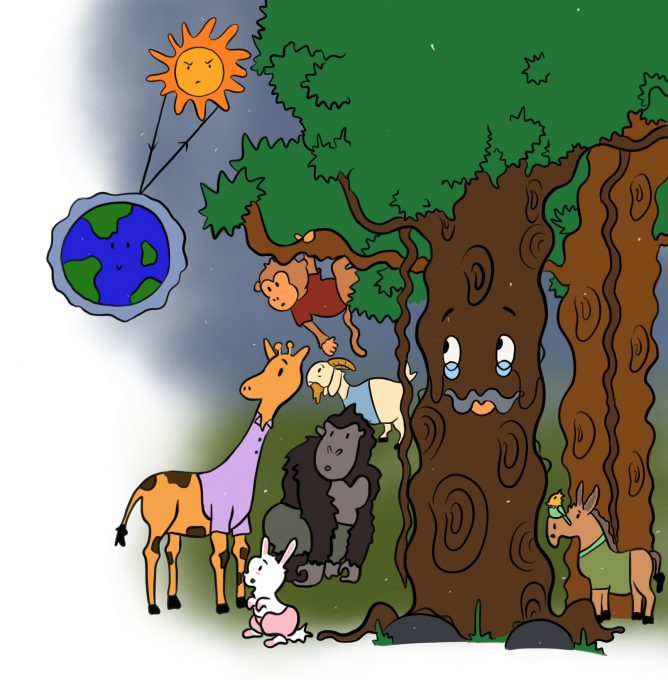 "Ozone layer is like a huge umbrella around the Earth that saves us from the harmful ultraviolet rays of the sun," Rancho explained.
"That is right, Rancho! If we did not have an ozone layer, then life on Earth would not exist. The increasing smoke and pollution from the factories are causing a hole in this ozone layer, which is harmful to animals and plants on Earth."
Romi squirrel asked, "How is it harming us, Grandpa Banyan?"
"The increase in the size of the hole in the ozone layer is creating an imbalance in the temperature of the Earth. It is making the winters colder and the summers hotter. The glaciers and the frozen caps in south and north pole are melting slowly and sea levels are rising. These imbalances are very dangerous for life on Earth," explained the Banyan tree.
Roro rabbit also added, "And our teacher also told us that carbon-monoxide from the ACs and the refrigerators is harming the ozone layer."
Doctor Giraffe, who was sitting there added, "That is correct and that is why it is important that we reduce the usage of ACs and other such things in our daily life."
Nina sparrow chirped in, "Oh! That explains why we are facing skin problems when we fly higher."
"Yes, Nina. This umbrella prevents the harmful ultraviolet rays from reaching the Earth. But since the hole in this layer is increasing, these rays are penetrating our atmosphere and reaching us. This is causing skin problems and if we do not pay attention to it now it can create further dangerous problems like skin cancer," said Doctor Giraffe.
"So, how can we stop this hole from becoming bigger," asked Deepu donkey.
"We can prevent this hole from becoming bigger by controlling air pollution, not using chemicals that are harmful to the ozone layer and not cutting trees. We have to plant as many trees as we can instead of cutting them. If we fail to do this then the results will be hazardous," said the Banyan tree.
Gogo was listening to all this and decided the animals had to find a solution to save the Earth. He asked everyone to reach Jeena's new factory the next day.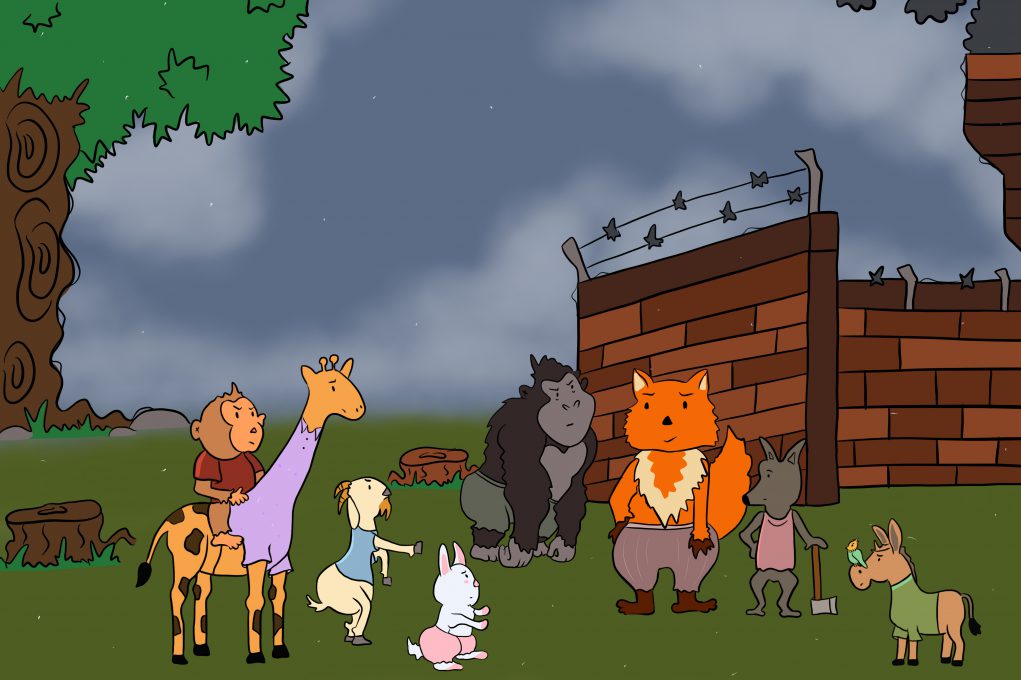 Next morning, the animals reached the factory when Jeena was instructing her workers to cut more trees.
"Jeena, have you taken the permission from the forest department to cut these trees?"
"Y…e…sss, Gogo," said Jeena Jackal.
"Good, let me see the papers," said Gogo.
Jeena was taken aback by this, but she regained control of herself. Placing a hand on Gogo's shoulder, she said, "I will build another factory here, which will give jobs to more of your animals."
This made Gogo furious and he said, "First you want to build a factory without proper papers. Last time when you built a factory and cut trees, you had promised to plant the same number of trees, but you did not plant a single tree. It is because of your mistakes that the rest of us have to pay such a heavy price."
Jeena jackal laughed guiltily and said, "Oh! If it is only about planting the trees I promise to do so it if you allow me to cut these trees now."
"It seems you will not give up that easily," said Gogo and he whistled. Rancho monkey immediately brought Ellie elephant to the site. Ellie was a Police Officer. Her arrival made Jeena nervous. Ellie checked all the documents of the factory and sealed the factory as they were not complete.
"We should not punish Jeena. The mistake is ours too, that we allowed her to go on without understanding how cutting trees is so harmful to all of us. We should make her realise her mistake by asking her to plant more trees in the forest," said the Banyan tree.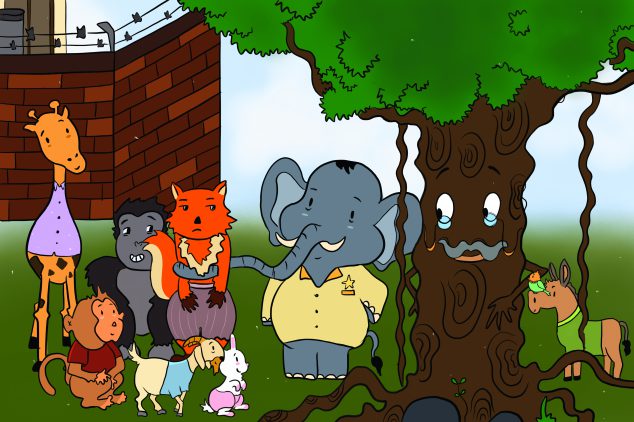 "I agree with grandpa, it is only by planting more trees that we can save this umbrella that saves us," added Rancho monkey.
Everyone agreed with the Banyan tree and planted more trees with Jeena in the forest. She too understood her mistake and only built factories that were safe for the environment.
Tags:
adventure stories
,
bedtime stories
,
bedtime stories stories for children
,
Champak Stories
,
Champakvan
,
children stories
,
ecology
,
endangered animals
,
english short stories
,
environment
,
environment stories
,
kids stories
,
monsoon
,
monsoon stories
,
Protect forest
,
save the earth
,
save the environment
,
save the forest
,
save the planet
,
short moral stories
,
short stories
,
stories for children