The spread of literacy in Vijayvan had not been good for Pandit Bholaram monkey's business.
He was no longer called upon to read palms to predict the future, nor to perform rituals for good health, success in studies or before entering a new home. The animals of Vijayvan knew these practices were only so that Panditji could make money and did not guarantee the things they promised. 
He shared this with his friend Bunty monkey who came to meet him.
"Business has been dull, my friend. A week has passed since I have had any customer," said Bholaram sadly.
"Yes! Everyone has become wiser since the opening of the new library," agreed Bunty.
"Please sit, Bunty. Let me get some tea for you," said Pandit Bholaram.
Bunty monkey sat, looked around the room and found a book. He started reading it. The book was called 'Gods and their Favourite Rides'. The book depicted the favourite vehicles of Gods with colourful images. He flips through the entire book by the time Bholaram comes back with tea. He suddenly thought of something.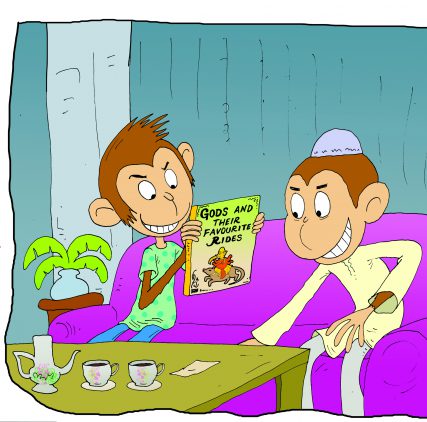 "There is another forest, a little far from here, called Devvan. The residents of Devvan are uneducated and very superstitious. Your business can thrive there," said Bunty, taking tea from Bholaram.
Bholaram looked curiously at Bunty.
"An idea has come to my mind after reading this book!" said Bunty and narrated his plan to Bholaram, who also got excited after hearing it.
"Now, since I came up with the idea, I should be a 50% partner in your earnings. You take half and give the other half of what you earn to me," said Bunty and Bholaram agreed. 
The duo then left for Devvan. They took a house on rent there and hung a board that said: 'Pandit Bholaram's Obstacle Removal Centre'.
The word soon spread that a renowned 'Pandit' had come to Devvan and was relieving animals of their pains and problems. A huge crowd started to gather at the centre.
Motu owl heard this and came to visit Pandit Bholaram. Touching Bholaram's feet, Motu said, "These days my earnings are not sufficient. Please suggest a way to increase them."
"What are you saying, Motu? Such a thing is not possible! You are the carrier of Goddess Lakshmi herself! How can you suffer? This cannot happen to you!" Pandit Bholaram exclaimed before Motu could finish his sentence.
"Who is Goddess Lakshmi?" Motu enquired.
"You don't know about Goddess Lakshmi? She is the Goddess of wealth who grants money to all. She rides on your back whenever she has to go somewhere," explained Bholaram.
This was all very confusing for Motu. Pandit Bholaram, then, looked at his partner Bunty monkey for support. Bunty took out the book and turned some pages. He showed an image to Motu and said, "Look, this is you and this is Goddess Lakshmi riding on you for her visit to a poor man to shower her blessings."
"Oh yes! That is me for sure! I never knew this," said Motu, surprised.
"Worship Goddess Lakshmi and you will have so much money, you will never have to worry again," Bunty added.
This made Motu owl extremely happy. He gave Pandit Bholaram fees for this knowledge and left from there.
Bholaram said, "Why has Lord Ganesha's vehicle take the pain of coming here? I would have visited your house if only you had asked me."
Bholaram's words did not mean anything to Chuchu and he started talking about his problem, "I am having a difficult time these days. My wife and kids do not listen to me," he said.
"This is definitely the dark ages. Lord Ganesha's ride is having a difficult time! It is definitely not a good time," Bholaram dramatised.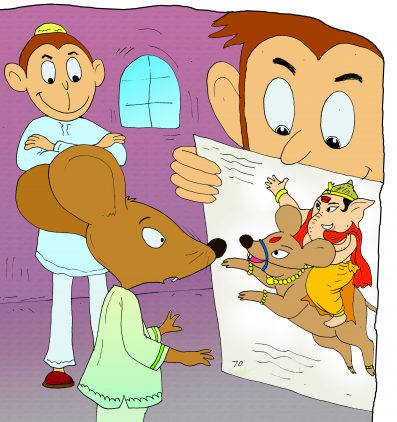 "I do not understand what you are saying about Lord Ganesha and me being his ride. Please tell me when my luck will change," asked Chuchu impatiently.
Bunty monkey showed Chuchu a picture from his book and explained, "Look, Lord Ganesha is riding on your back, on his task to remove problems for those who worship him."
Chuchu was surprised to see that he was carrying Lord Ganesha on his back. This made him realize how great he was!
"Keep Lord Ganesha happy by worshipping him and soon everything will be back to normal," suggested Bunty.
Chuchu gave money to Pandit Bholaram and left from there.
"Namaste, Pandit ji!" greeted Kalu crow, who visited Bholaram next. "I never get a successful result in any work I do. It seems as if there is an adverse influence of Lord Saturn on me."
"Lord Saturn can never affect you adversely! You are his ride! He can never let this happen to you!" Bholaram faked surprise.
Like always, Bunty took out his book and showed Kalu an image of Kalu carrying Lord Saturn. 
"Look it is you who is carrying Lord Saturn! The Lord does not have wings to fly and he would be helpless without you. You should go and pray to him and you will be taken care of," said Bunty.
They suggested Ballu ox to pray to Lord Shiva, Meenu peacock to pray to Kartikey's, Hansraj swan to pray Goddess Saraswati's and Golu eagle to pray to Lord Vishnu, as these gods rode on them and advised them to worship their respective Gods and said, "Your luck is going to change very soon. After all, these Gods have to help their rides."
Now, Chuchu mouse, Motu owl, Kalu crow, Ballu ox, Golu Eagle to Meenu peacock, and others started worshipping their respective Gods. They believed that they would soon become wealthy if they succeeded in pleasing their Gods. 
After several days of praying when none of them got the desired results they went back to Bholaram and complained, "Pandit ji, we have been worshipping our Gods day and night but we have not been rewarded."
The gathering of a huge crowd made Bholaram nervous. But the clever Bunty immediately came up with an idea and said, "Don't worry, my friends!  If you haven't succeeded in the simple method of prayer, then, we will switch to a different and more complicated method. About five kilometres from here, there is a river. On its banks is a tree. You should go there and start a hunger strike. Your strike will make the Gods helpless and their work will come to a standstill. They will not be able to travel from one place to another," claimed Bunty.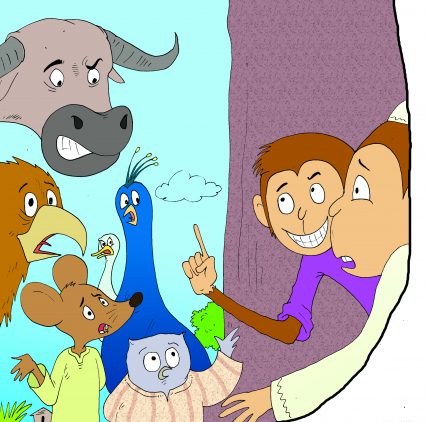 All the animals followed Bunty's advice and went to the river bank and sat under the huge banyan tree in a hunger strike. Two days passed but no God or Goddesses came to their rescue.
Rocky rabbit of Vijayvan was visiting Devvan. He was riding on Grandpa elephant's back. Grandpa elephant was tired as he had been walking continuously and wanted to rest, so they stopped near the banyan tree.
"Rocky, let us rest here for some time and have our food too," said Grandpa elephant.
Rocky got down from Grandpa elephant's back. Looking at the crowd gathered there Grandpa elephant said, "What is this? It seems like the whole of Devvan is gathered here!"
"Can't you see, we are all on a hunger strike? We will not eat or drink anything until God appears to help us," Kalu crow replied.
"I am Lord Ganesha's vehicle. Let me see how Lord Ganesha moves out of his house without me," Chuchu said proudly.
"I carry Goddess Lakshmi around. The Goddess flaunts herself when she sits on me. Let me see how she manages without me," Motu owl added.
Grandpa elephant and Rocky rabbit understood that animals had been fooled. He noticed that the animals had become very weak from hunger. They were not able to speak properly. Grandpa elephant picked the food kept on his back with his trunk and brought it down. The sweets and the fruits made the animals hungrier. He invited them to eat the food.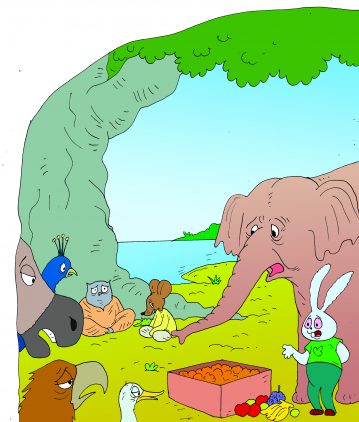 "No, we are on a hunger strike," they said together.
"But you all are the vehicles of the Gods and you are on a hunger strike! How will they come to you if they do not have their rides with them?" asked Rocky.
The animals looked at each other and said, "That makes sense! If we are not with them, how will they come to us?"
But Ballu was suspicious and said, "I think this is a way to disrupt our strike."
Rocky knew the animals would not survive if they were not fed immediately. He thought hard and came up with an idea. 
He pointed towards Grandpa elephant and said, "He is Eravat-Lord Indra's vehicle. Your prayers have made Lord Indra happy and he has sent this food with him. But if you all do not wish to eat, we will inform King Indra that."
Before Rocky could complete his sentence, the animals jumped at the food and polished it off. They felt stronger after eating the food.
"We were not aware that we are vehicles of various Gods till Pandit Bholaram and Bunty monkey told us that we are important as we are the vehicles of Gods," said Motu owl. On hearing Bholaram and Bunty's names, both Grandpa Elephant and Rocky rabbit were surprised.
"Chuchu, please help me pick up this empty box of sweets and throw it," said Grandpa Elephant after a little thought.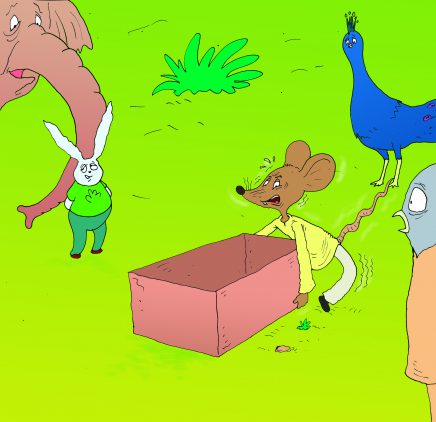 Chuchu mouse came and tried to pick up the box but he couldn't move it.
"Try harder! You claim to carry Lord Ganesha across the universe on your back, so this should not be difficult for you," said Grandpa elephant.
Chuchu mouse was embarrassed.
Rocky then asked Motu owl, "Can you throw this box outside?"
"Where is the box?" asked Motu looking around but he could not see the box. 
"It's day time. I cannot see anything when there is sunlight. Let the sun set and it become dark…" he said, trailing his sentence.
"What if Goddess Lakshmi has to go somewhere during the day?" asked Rocky. Motu had no answer.
"Pandit Bholaram has fooled you! You are not the vehicles of Gods and no one will help you succeed if you give money to such pandits. Success can only be achieved with hard work," explained Grandpa elephant.
Meanwhile in the jungle, Pandit Bholaram and Bunty were busy packing their stuff and getting ready to run away.
Grandpa elephant took all the animals to Pandit Bholaram and Bunty's house where they saw the duo dividing the money they had earned amongst themselves.
On seeing Grandpa elephant, Bholaram and Bunty understood that they had been caught and returned the money they had charged from the animals.
Grandpa elephant and Rocky rabbit then left for Vijayvan. On his way back Grandpa elephant thought, "We need to open a school and library here, so that the residents of Devvan cannot be fooled easily and keep books that will help them think for themselves."