It was a Sunday morning and Tinku was still in bed. "Tinku, Tinku! Wake up! It's already 8 O'clock," his mom called out.
Tinku woke up rubbing his eyes, and peeped through the window. He saw a strange animal walking past the street and a man riding it. "Mom, come fast. A new animal is here. It's wearing colourful flowers too!" said Tinku excitedly.
His mom and elder sister Pinki came running.His mom looking out of the window smiled and said, "Tinku, that is a camel. It is not wearing flowers, but is decorated with colourful tassels," explained his mom.
"It is so big, mom! But why is there only one camel? Where are its parents?" asked Tinku.
"Tinku, his parents are in Rajasthan. We will go to the Pushkar Camel Fair after Diwali. There, you will see many camels," said his mom. Tinku jumped with joy on hearing this.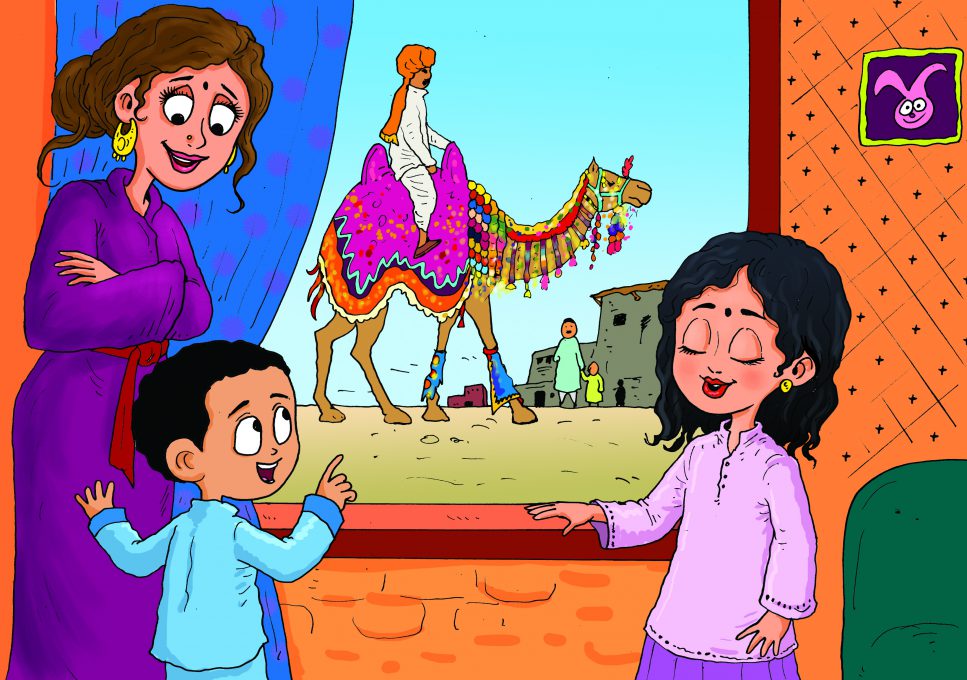 His parents had got train tickets booked. Both Tinku and his sister waited impatiently for the trip. They arrived in Pushkar at night after a day-long journey, checked into their hotel rooms, had dinner and went to bed.
Tinku was very excited! He could not sleep the whole night. He woke Pinki and his parents at 5 am itself! They put on their sweaters and went out for a stroll.
The air was cool and pleasant and the morning dew had wet the sand. It was
still dark and few stars could be seen twinkling in the sky. There were hundreds of camels all around, grunting and bellowing. In the dark, they looked like ghosts.
The camel traders wore colourful turbans. They milked their camels, dug up pits in the sand, lit up small fires and made tea from camel milk in copper vessels.
With the break of dawn, Tinku could clearly see the camels in the sunlight. Some were black, some were white, but most of them were brown.
The front legs of some camels were bent and tied with a rope. "Papa, why are camel's legs tied with ropes? They are crying in pain!" asked Pinki.
"Pinki, the men tie the legs so that they don't run around here and there," replied their father.
Tinku was watching everything in awe, while Pinki was capturing the scene on her camera. They could also hear a folk song with music, which gradually became clearer. They noticed a man and woman, dressed in traditional Rajasthani costumes. The woman was singing and the man was playing music on an instrument called iktaara.
Many young girls dressed in colourful Rajasthani ghaghra-choli or skirts and tops, joined them and started dancing to their music. A snake charmer was playing a special kind of flute. He let a snake out of his basket. The snake started moving his head in sync with the tune of the flute. Many foreign tourists were also there, clicking pictures of these beautiful sights.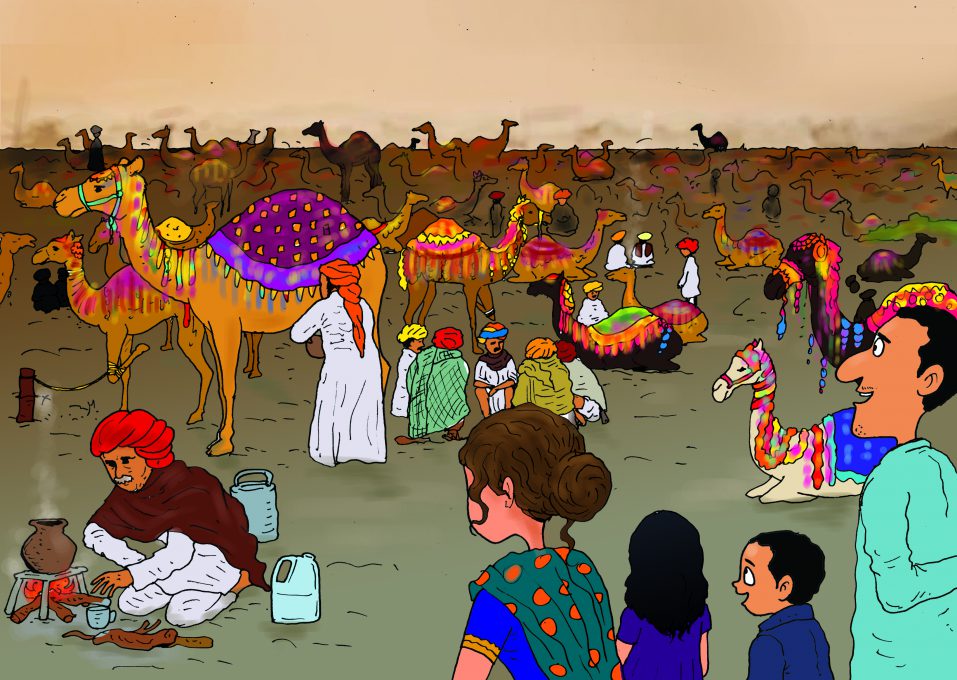 "Why are they taking pictures of our dances, papa?" asked Tinku.
"Because, they like our country's rich and beautiful culture and heritage, Tinku!" explained papa.
"What is culture and heritage, papa?" asked Tinku.
"They are our good habits and practices, Tinku," replied papa.
Caravans of camels were coming from all directions. Majestic looking camels kicked the golden sand as they marched in, creating thin clouds of orangish dust, that looked stunning.
"What are those carts?" asked Pinki, pointing towards a caravan of camel-carts, decorated with pink and green canopies.
"They are camel carts Pinki. We will go on a safari in one of them in the evening. Let us go back and have our breakfast now," said mom.
After a light breakfast, they visited the fair in Pushkar. They saw a camel dance competition! Decorated with colourful tassels, silver bells and jewellery, camels also competed in a beauty contest!
Later that day, post a brief afternoon nap in the hotel, the family went on a safari in one of the camel-carts. The cameleer would make strange sounds and the camel seemed to understand his language and obey his commands!
After a short ride, they reached the sunset point. Many tourists were capturing the camels and the desert, against the backdrop of sunset. The orange sun slowly dipped, spreading a crimson glow all around. It was a beautiful sight.
The safari then took them to gardens of roses and amla in a small Rajasthani village. Here, Rajasthani costumes were available on rent. Tinku, Pinki and their parents wore colourful Rajasthani attires and clicked pictures. The children were overjoyed after their camel-cart ride.
They also visited the Pushkar Lake and saw many people take a dip in its waters. The entire market around the lake was glowing in colourful lights. People dressed in colourful costumes could be seen walking all around. Pinki and Tinku bought wooden toys and colourful clothes from the market.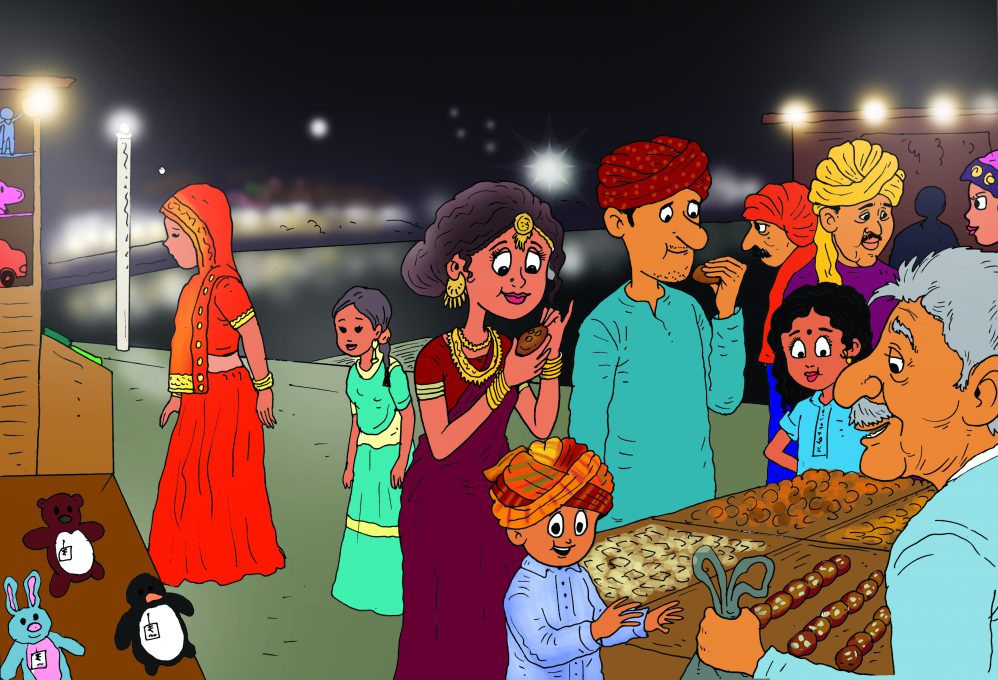 At night, they relished mouth-watering malpuas. The children bought sweets for their classmates too.
Early next morning, they left Pushkar with memories of camels and beautiful sunsets.
Tags:
animal stories
,
animal stories online
,
animated stories
,
bedtime stories
,
bedtime stories for kids
,
boasting
,
champak stories online
,
Champakvan
,
Champakvan story
,
children moral stories
,
children online stories
,
children short stories
,
children stories
,
children's short stories
,
english short stories
,
english stories for kids
,
fun stories
,
funny stories
,
kids short stories
,
online stories
,
read aloud stories
,
school stories
,
stories to read