More from Champak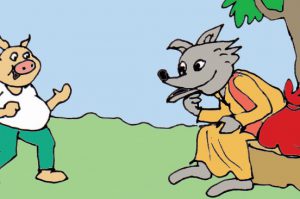 Enjoy Cheeku and Meeku's fun encounter with Foxy fox!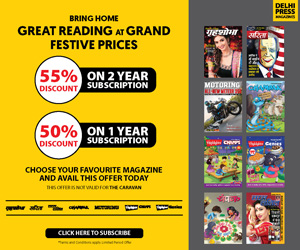 Meeku mouse was playing hide and seek with his friends.
He counted,".1, 2, 3, 4, 5……10'' and asked aloud, "I hope all of you have hidden? I am coming out to catch you.'' said Meeku as he came out from behind the tree.
There were a lot of bushes near the trees but Meeku could not see anyone behind them.
"I am sure that Baddy must be hiding inside the bushes. I know him very well. He is very lazy and won't go too far to hide," thought Meeku as he entered the bushes. 
It was Laptu jackal and not Baddy who was actually resting there. Seeing Meeku, he got annoyed. 
"Sorry Laptu, I didn't mean to disturb you. I was searching for my friends." apologised Meeku, ready to run. 
"You've disturbed me and you will have to pay for this," said Laptu as he leapt towards Meeku. Hearing him say this, Meeku started to run. 
"Ha…ha …. ha…'' laughed Meeku as he left Laptu behind. Just as he was catching his breath, he thought he saw something that looked like a pair of ears behind the bushes. 
"These look like Baddy's ears", Meeku said to himself and then watched closely. He noticed a tail outside the bushes.
"Caught you! I have seen your tail outside the bushes, Baddy. Come out of your hiding." said Meeku.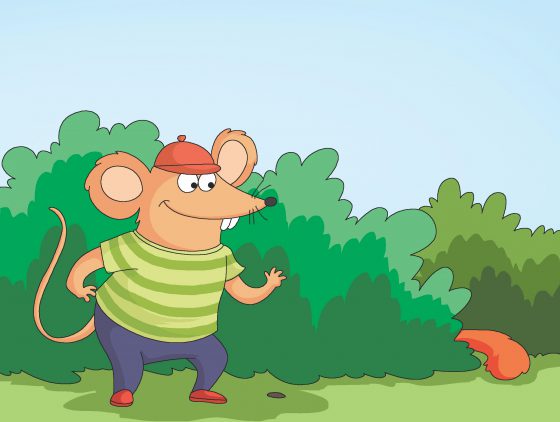 Baddy came out of his hiding, looking like a thief caught in the act.
"I thought Laptu wouldn't let you go off easily," said Baddy laughing.
"Stop laughing Baddy … I have to catch Cheeku rabbit. Let's see where he is hiding,'' said Meeku and set out again.
Suddenly, Meeku heard a voice from behind the rocks.
"I caught you Cheeku!" he shouted putting his hand behind the rocks to pull Cheeku out.
"But …this is Blacky bear." he realised when he put his hand.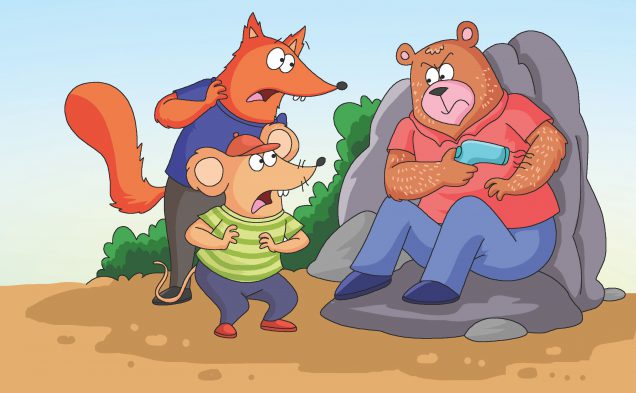 "Sorry uncle. We were playing hide and seek and when I saw a figure behind the rocks, I thought it was Cheeku hiding there," said Meeku and ran off, barely giving any chance to Blacky to speak.
 "Oh! What an escape!" said Meeku to himself panting. "I should be a bit more careful. I may land in trouble, searching for Cheeku."
Just then, Meeku noticed a white-coloured ear behind the tree.
"Now, you have been caught, Cheeku! I have seen your long white ears behind the tree. Come out." said Meeku. Cheeku came out of his hiding on hearing Meeku.
"Too bad! I have been caught because of my long ears.'' said Cheeku angrily.
"Come on. Both of you go and hide now. I will count till 10." said Baddy and went behind the tree to close his eyes.
Meeku and Cheeku went into hiding.
"I am coming for you." said Baddy and set out to look for them.
Suddenly Baddy heard a lion roar at a distance, and he started to sweat.
But he had a feeling that his friends were playing a prank on him. So, he shouted loudly, "Look, don't you dare try to scare me."
Baddy felt really scared when he heard the roar the second time.
"Cheeku and Meeku, you had better stop scaring me." warned Baddy.
"I am not making these sounds." said Cheeku coming out from behind the bushes. "I am also wondering where the sound is coming from.''
"That means this is Meeku's prank.'' said Baddy and set out to look for him.
He could hear the roar over and over again. Both Baddy and Cheeku stopped on their tracks, as they turned pale with fright.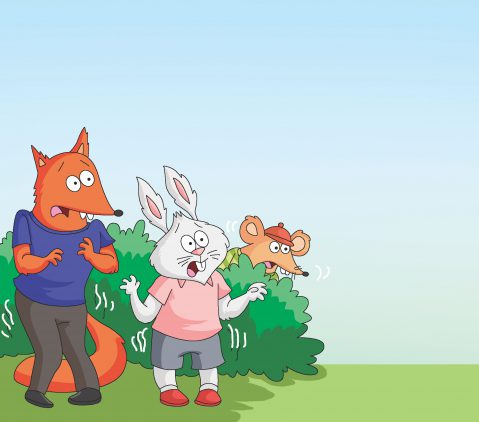 "Believe me, it's not me whose letting out these roars." said Meeku as he came out of his hiding. "This sure is the roar of a lion, which is coming here." said Meeku filled with fear.
Hurry! Let's go and hide somewhere." said a worried Baddy.
"Yes." shouted Cheeku and Meeku. They leaped into the bushes without wasting any time. 
All three of them hid in the bushes for quite a long time, waiting for the lion to come.
"Hey? Where is the lion?" The three friends spoke among themselves.
"Haa … Haa …….'' Just then they heard Damru donkey laugh.
"Damru, go and hide in some place safe. A lion is coming here." said Cheeku on seeing Damru.
 But Damru continued laughing.
"Stop laughing …We will all get killed because of you." shouted an angry and irritated Meeku.
"Stop Damru'' warned Baddy.
"Oh, please stop panicking." said Damru trying to control his laughter. "I am that lion who was trying to scare you! Let me also play with you or I will keep making these sounds to frighten you."
Saying so, Damru let out a loud roar again.
"Okay, join in for a game. But stop roaring. Else, a real lion will surely pop up from somewhere." said Baddy. Everyone burst into laughter.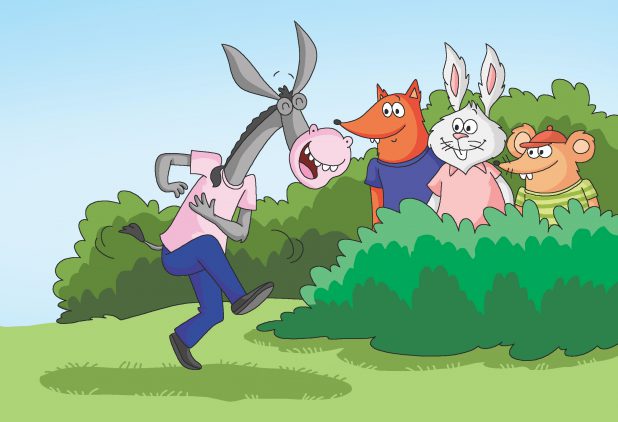 Tags:
animal stories
,
animal stories online
,
animated stories
,
bedtime stories
,
bedtime stories for kids
,
boasting
,
champak stories online
,
Champakvan
,
Champakvan story
,
children moral stories
,
children online stories
,
children short stories
,
children stories
,
children's short stories
,
english short stories
,
english stories for kids
,
fun stories
,
funny stories
,
kids short stories
,
online stories
,
read aloud stories
,
school stories
,
stories to read