Rahul had returned from the market carrying some bags. As soon as he came home he called out to his younger sister, "Ruhi, come and take a look at what I've got from the market."
Hearing her brother, Ruhi came running towards him and took the bags from his hands. She went to her room and emptied the bags on her bed.
The mother too came in. Decorative items like stars, ribbons, pearls, flowers, balloons etc were scattered on the bed. Looking at them, mom asked, "Are we celebrating someone's birthday?"
"Yes mother, we are celebrating a birthday! The birth of a new year! January 1 marks the first day of the New Year. I will decorate our house. On New Year's Eve, I'll fill the whole house with balloons, and flowers," said Rahul.
"Mother, I want to help blowing the balloons," said little Ruhi. Hearing little Ruhi speak so, mother let out a smile.
Seeing their enthusiasm, mother was very happy. She said, "Yes, so this sounds like fun. I will also make some sweets, chocolates and bake a cake. We can invite some of our friends and relatives to celebrate the New Year's Eve together."
"Wonderful! That would be fantastic! Then we will have a bustling preparation," said Rahul happily.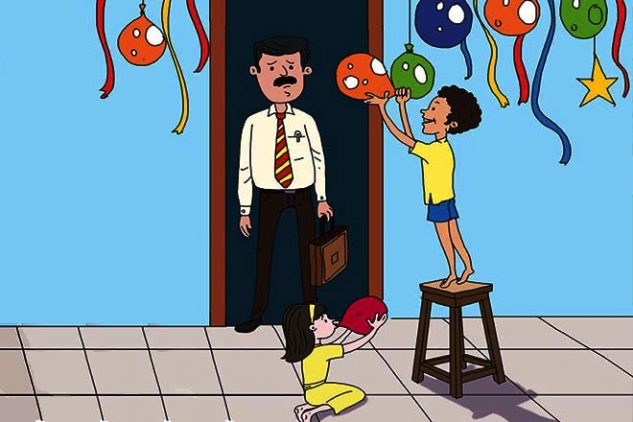 "What preparations are you talking about, guys? Let me know about them too!" said their father as he stepped into the room.
Rahul and Ruhi showed the decorative items to their father and told him that their mother was baking a cake and making sweets and chocolates for them to celebrate the New Year.
Father nodded and said, "Fine. But something is still missing!"
"And what would that be?" mother asked. Then she pondered that maybe he was saying so because the kids forgot to buy a few boxes of candles.
"Look, celebrating a festival does not mean just decorating your house or spreading happiness and eating sweetmeats. We should also make certain resolutions."
"Resolutions? What is the meaning of a resolution, father?" asked six-year-old Ruhi.
"A resolution means taking a decision or an oath or a promise," said father.
Rahul, who was older to Ruhi, said, "That's a good idea. I will think of a resolution."
Ruhi felt lost listening to this conversation because she could not understand a word of it. She said, "But what do I do? I don't know how to make a resolution!"
"I will help you," said Rahul. "Both of us can together think of a resolution for the New Year." On New Year's Eve, Rahul really changed the entire look of the house. The house looked lovely, decked up with colourful balloons, buntings, candles and lanterns.
Mother and father wished Rahul and Ruhi a very happy new year. Both the kids took their parents' blessings.
Both the kids gifted handmade drawings to their parents. Father noticed a line of colourful words written on Rahul's sheet: I take a resolution that from this day on, I will not fuss about food and will also finish my work on time".
Their parents took a glance at Ruhi's drawing sheet. There were a few drawings made on the sheet with the words: Fruits – to be eaten more. Chocolates to be eaten less'.
"Father, I can't write like brother, so I drew these pictures," Ruhi answered coyly. The parents gifted their children gifts and a paper. Father resolved to be more successful at work and Mother, to take up a new hobby.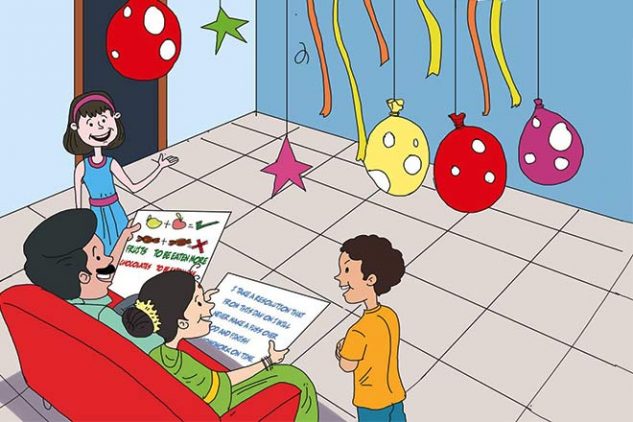 Both mother and father smiled at the drawings made by Ruhi. They gave a big hug to both the kids and said, "Let's celebrate and promise to keep our new year resolutions."