After a whole night of heavy showers, the rain stopped. Most trees in Anandvan forest had fallen down. Due to landslides at many places, the roads were blocked. 
Mintu monkey reached his favourite spot – the banyan tree, but was shocked to see it. Due to the previous night's rain, the tree had been uprooted. The huge trunk blocked the road and its branches were scattered everywhere. 
Mintu sat quietly near the fallen tree. He remembered all the beautiful moments he had spent on the tree with his mother.  He had been born there and had spent his childhood playing with other animals on the branches of the tree. When he became older, he left the banyan tree to stay with his friends. But he came to the tree often to meet his mother. Even after his mother died, he would still come to the tree regularly.
After some time, Pinku parrot passed that way. Seeing Mintu sitting there with his shoulders drooping, Pinku asked, "What happened, Mintu? Why do you look so sad?"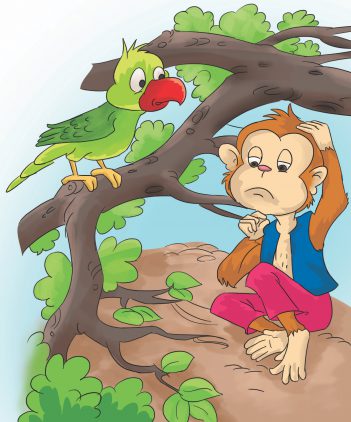 "Pinku, I'm sad looking at this uprooted tree," replied Minku. 
"The rain has destroyed many trees of the forest. This is not the only one. Come with me, I will show you around. Don't feel so sad," Pinku consoled.
"No, thank you Pinku. I am better here," replied Mintu. 
"Tell me the truth, Mintu. What happened? Were you very attached to this tree?" asked Pinku. 
"Yes Pinku, I spent the best days of my childhood sitting here, on this tree. The memory of my mother also revolves around this tree," Mintu sobbed and said.
 "That is why you are feeling so sad about this tree," said Pinku. 
"You are right. The government has cut down so many trees to make the road. But, what is the point of the road if there are no trees?"
"You may not need the road, but there are others who do, Mintu. For the development of the forest, this was necessary," said Pinku, now getting angry at Mintu. 
"It doesn't mean that for development, the whole forest should be destroyed," retorted Mintu. 
"For development, cutting trees is necessary.  We don't know how many more sacrifices we still have to make to become modern," said Pinku, sticking to his point of view. 
"Pinku, not only that this tree is destroyed. So many animals, birds and insects living on the tree also are homeless. Where will they go now?" asked Mintu.
"Yes, that's true," said Pinku. "But this is what you and I think. The government does not think about all this."
"We must make them understand. Do you know now?" asked Mintu. 
"Come, let us ask what the other animals of the forest who have suffered because of the rains, say on this," said Pinku.
Soon, they gathered many animals who had suffered losses because of the heavy rains destroying the trees and their homes in the forest.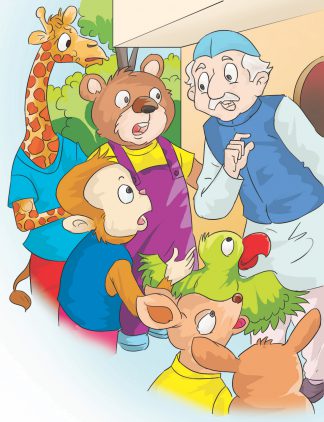 "By building the roads in the forest, many animals have suffered loss of their homes and loss of forest property. We should put our problems before the government. If we carry on like this, we don't know how much more loss we will have to suffer," said Mintu.
"Mintu is right!" they said together and decided to go and meet the Minister in charge of roads and development.
Seeing so many animals together the Minister asked, "What happened?  Is everything alright?"
"Sir, because of yesterday's rains, many of our birds and animals have become homeless. Big trees have been uprooted. We have never seen such large-scale destruction," said Pinku. 
"But why have you come to me?" asked the Minister. "Sir, because of the construction of roads in the forest, so much destruction of property has taken place," they said together. 
"Then, you tell me, what should I do? For the development of the forest, we have to suffer some amount of loss," he said. 
"You're right, sir. But we request that at the time of building roads, a few points should be kept in mind. Road construction should not kill the roots of trees. The forest's old banyan tree has fallen down. Many birds and small animals had their homes on it. All of them have become homeless. Many creatures had spent their childhood on or around this tree. Their memories revolved around it. And all this is now over!" they explained. 
"You are right. We should have kept these things in mind. The road should have been planned in a way, so that least destruction of trees and forest happens.
Whatever loss has happened, can't be undone. But I promise you, In future, we will keep in mind that you do not suffer anymore," replied the Minister. 
"But what will happen to the old banyan tree?  It is still lying there on the ground," said Pinku. 
"I have a solution for this. If you wish, I can help you preserve its memories," said the Minister.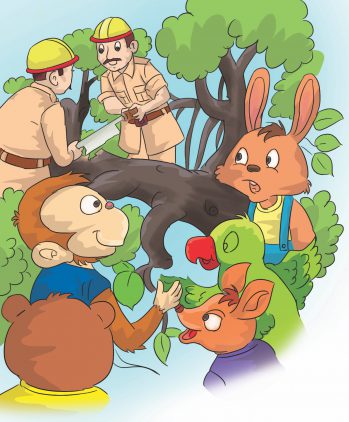 "How?" they asked. "We will cut off the big branches and place the trunk with the roots in a big hole in the ground. Soon, new sprouts will come from it," said the minister. 
"Is that possible?" they asked. "We have to try. And I also promise, next time, we will be careful in our construction," he promised. 
Mintu and all the animals too decided to help in the development of the forest and ensure that the forest was not destroyed.